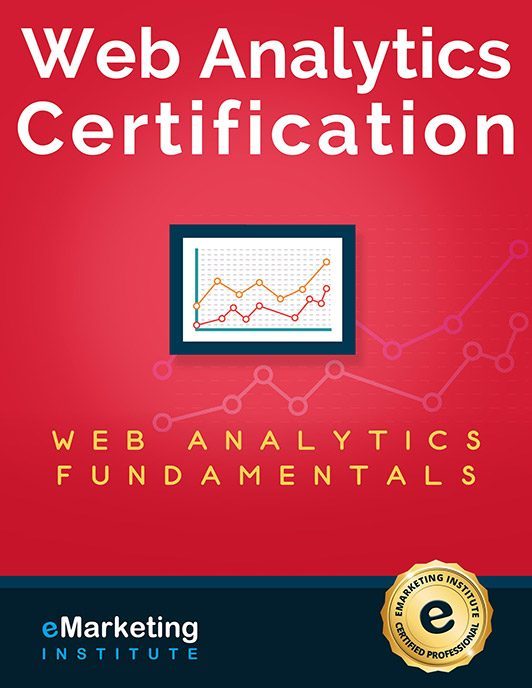 Web Analytics Course and Certification (FREE)
4.52
(1,174 ratings) 17,983 students
Everything is 100% FREE!
160 Pages eBook
FREE Course and Certification
Difficulty Level: Beginners
Sign up to this free course

Certification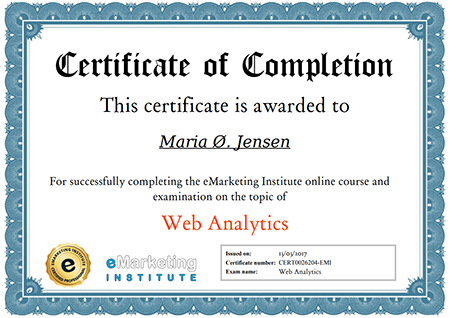 Web Analytics Certification
Get a Professional Certification
Showcase Your Skills
Improve Your CV/Resume
Grow Your Online Marketing Career
Course materials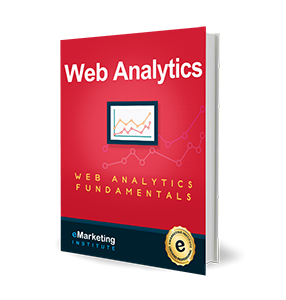 Course materials
HTML and PDF-format
160 pages
50 sample questions
Knowledge required to pass test
Course overview
Web Analytics Course Overview
The great importance of web analytics in internet marketing is based on the fact, that it allows you to assess the results of the work you are doing and whether you managed to achieve the results you want. This means that web analytics is a great tool to help you analyze the results achieved with different types of online marketing strategies, making analytics an inseparable part of the process of web analysis.
The beginning of the course is focused on explaining what web analytics is, how it all started, and how analytics changed over the years with the development of technology. You will also learn about true potential of web analytics and how you can use it to help your business grow.
The terminology typical for web analytics is something you should be familiar with in order to understand the basics of web analytics. Some of the important elements introduced through the course include the five "Why" of web analytics and web analytics dashboards.
You will also discover some of the web analytics tools and software you could use for tracking your performance, as well as which metrics you need to track in order to get the full picture of your website's activity and success.
As one of the most commonly used web analytics tool, Google Analytics is also part of this course. The process of installing Google Analytics, as well as detailed instructions on setting up different features inside the tool are all explained in this e-book.
You will also find out how to analyze the data obtained through Google Analytics. Increasing website's visibility through web analytics is also an important topic discussed throughout the course, with presentation of trusted ways to increase visibility and metrics, which can help with this task. Metrics such as SEPR rank, keywords, click through rate (CTR) and others are all part of the process of increasing website visibility and making web analytics work for your website by obtaining the relevant data.
When it comes to analysis of the data obtained through website analytics, you will learn how to analyze the data using testing software. This will help you compare relevant figures and conclude which tactics are successful.
Web analytics methods are also a helpful resource for you to understand the process of collecting the data and how those data affect the statistics gathered through web analytics.
In the end, you will learn about social media analytics and mobile analytics as two important sources of traffic, and thus important elements of web analytics nowadays. These data will help you finding out how visitors interact with your website, which parts of the website are the most engaging, which pages cause the greatest bounce rate, etc.
All of this can help you understand your website and the way visitors see it. This is important for you, if you want to make adjustments and improve the parts, which are not performing well, and take advantage of approaches that do work well and provide positive results.
The final list of tips for advanced web analytics will help you go a step further and develop an approach, which is based on process, that are proven to give results and basically make up the essence of web analytics.
Chapter content
Chapter content
The topic of web analytics is important for understanding the performance of the website, which is why this area is essential part of online marketing. The introduction of the e-book outlines the goals and the purpose of information related to web analytics, which are crucial for understating the business opportunities, measuring success and decision making.
2. Understanding Web Analytics
In this chapter, you will find out what web analytics is and how this field developed with the development of the internet. You will also find out what the purpose of using web analytics is in the online business and how to unlock your website's potential through web analytics.
Here you will find out the basics of web analytics, web analytic dashboard, and the most used terms to help you get started. Tips on how to choose a web analytics tool and which metrics to track are also part of this chapter. In the end you will see how to identify site referrers, your audience and the most important pages, as well as what key performance indicators are.
Google Analytics is one of the most commonly used web analytics tools and here you will learn the basics of Google Analytics, which includes the instructions on how to install and set up your account, the basic features including account, property, view, profiles, filters, traffic channels, etc. On-site search and on-page interaction tracking are also included, as well as tips on analyzing the data through Google Analytics.
5. How to Make Web Analytics Work for Your Website
The focus of this chapter is web traffic data analysis with its top 5 pillars of web analytics which will help you make web analytics work for your website.
6. How to Increase Your Site's Visibility through Web Analytics
Here you will find out what visibility is and how to improve it using web analytics data. Google metrics that help with website visibility are also part of this section of the e-book, and include metrics such as crawlability, NAP citation, URLs index, deep links, SERP ranking, etc.
7. Ten Most Common Web Analytics Mistakes and Pitfalls
This section of the e-book deals with web analytics mistakes and pitfalls you should avoid if you want to successfully use the data to improve your website's performance.
8. Web Analytics: Best Practices
Strict documentation, integration with reporting system, understanding the business process and having a roadmap for improvements are some of the best practices that will help you take advantage of the data obtained from web analytics.
Once you obtain your website data, you are ready to analyze the meaning of the data and what they mean for your business. Besides criteria for analysis, you will also find out how using testing software can help you with analytical data. Testing includes A/B testing and multivariate testing.
The web analytics methods are methods used to collect data about your website, and this segment includes the explanation of these web analytics methods: cookies, geotargeting, mobile phone tracking, and geotagging.
The influence of social media is very important as it can generate significant amount of traffic, which makes is necessary to incorporate the data into successful web analytics. The process of social media analytics includes measuring, analyzing, and interpreting the data related to social media activity.
Mobile platforms are taking over desktop traffic making mobile analytics essential part of web analytics. This chapter is focused on analysis of the data, adapting to the mobile platforms and using analytics software to get the data.
This chapter presents ten advanced web analytics tips for webmasters that will help you understand the web analytics data and how those can be used to improve your website's performance in terms of positioning, reach, etc.
Analytics glossary is a collection of terminology related to web analytics and online marketing in general. The purpose of this chapter is developing an understanding of the expressions used in web analytics.
Contains a list of questions and their answers for exercise. Test yourself, and see if you have the knowledge required to pass the online certification test.
The final chapter of web analytics e-book is devoted to highlighting the benefits of analyzing the data obtained through web analytics and how this area of online marketing is evolving with the development of new technologies and new ways to obtain the data. Ultimately, this affects the development of online marketing strategy in general.
How to pass exam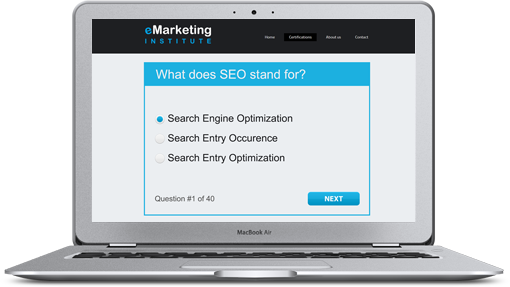 How to pass exam
The pass score is 50%. There are 50 multiple choice questions in each exam. In order to get certified you need to answer correct on 25 out of 50 questions.
Time limit: 60 minutes.
The difficulty level of this course is: Beginners level.