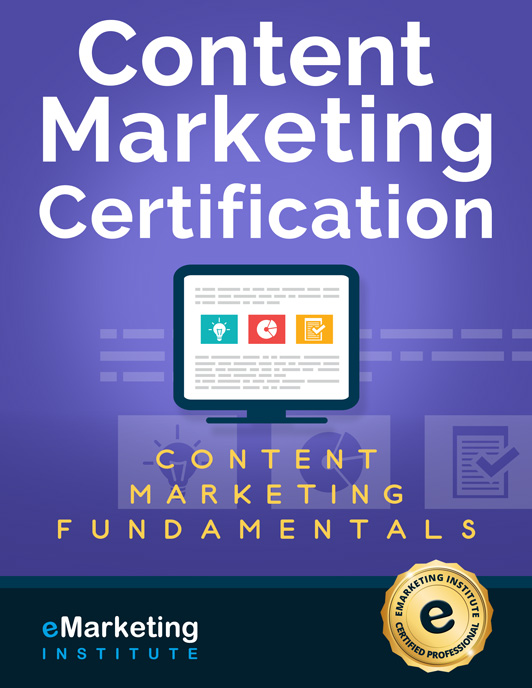 Content Marketing Course and Certification (FREE)
4.65
(2,685 ratings) 16,400 students
Everything is 100% FREE!
161 Pages eBook
FREE Course and Certification
Difficulty Level: Beginners
Sign up to this free course

Certification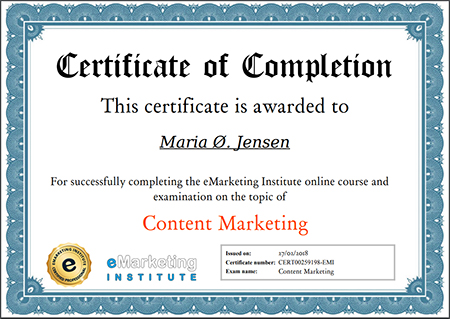 Content Marketing Certification
Get a Professional Certification
Showcase Your Skills
Improve Your CV/Resume
Grow Your Content Marketing Career
Course materials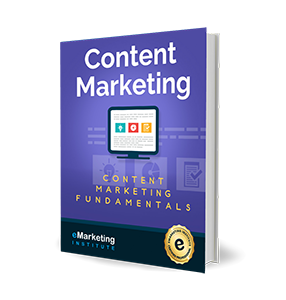 Course materials
HTML and PDF-format
161 pages
50 sample questions
Knowledge required to pass test
Course overview
Content Marketing Course Overview
What Bill Gates predicted in his essay "Content is the King", stating that the internet will revolutionize the way people get information and the way they communicate, is becoming a reality in the modern world. Obviously, this affects the business world as well. No longer can we imagine a marketing campaign without online marketing. Online promotion has become dominant, sometimes even an exclusive way for businesses to reach consumers.
This is where content has found its main purpose. Content marketing is the core of other online marketing strategies, such as SEM, affiliate marketing, email marketing, etc.
The first section of the course focuses on this role content has nowadays, it explains what content marketing is and how to start with it. Furthermore, you need to learn more about content types, which are also discussed in one of the chapters along with types of blog posts.
Then follows the central part of the course which focuses on the four phases of content marketing: content creation, content optimization, content management and content distribution.
It all starts with an idea and the creation process that goes through phases before you completely create a piece of content based on this idea. The following step is content optimization, as the best way to ensure that your content is created based on specific standards that increase its visibility and thus its potential to reach online users.
Content management is the segment about content management systems, and how they help you make your content available on the internet. Finally, the section focused on content distribution is what is going to wrap up this segment with ideas and suggestions on how to promote your content.
You will then explore metrics as a necessary segment for website monitoring and performance analysis.
Content marketing strategy occupies a prominent place in this course as well, because it represents a sort of a roadmap to help you define what you need to create content, how to create it, how to distribute it, and finally, how to evaluate its performance. Common challenges that might occur along the way are also discussed in one of the chapters.
Since content marketing cannot run independently, you need to explore its role in online marketing. You might also need to learn more about online marketing to get better at content marketing. It is all connected and mutually conditioned, which you will explore in this segment. The topic of influencer marketing is also discussed as an increasingly popular strategy in online marketing.
In the end, you will see the list of helpful tools which can help you along the four phases of content marketing.
The ultimate goal is to make this guide a starting point in understanding content marketing as something more than just the process of writing an article or recording a video. Content has a specific purpose, and content marketing activities are designed to help you achieve this purpose. Learning more about online marketing will help you implement content marketing in many different strategies, such as in email marketing, in affiliate marketing, social media marketing, etc.
Chapter content
Chapter content
The introduction of this course is devoted to the development of content from the start of the internet to its role in digital marketing today. The relevant industry statistics illustrate the importance of content in business, content types used and how content is distributed.
2. Basics of Content Marketing
In this section, the essential concepts of content marketing are analyzed. It starts with the definition of content and its characteristics. It goes on to define content marketing and how this section relates to other parts of online marketing. Starting out with content marketing and things to consider when thinking about content creation are also included in this chapter.
Detailed analysis of content types, when they are used and how effective they are, represent the first section of this chapter. Since written content is often used as a type of online content, different types of blog posts with definitions and distinctive features highlighted for each of them.
Before you start creating content, you need to have in mind that content creation is a process that starts with setting up goals and ends with publishing the content and making it available to the online users. These and in-between stages are all part of this chapter.
The best way to increase visibility of your content and make sure it reaches online users is through content optimization. Hence, you need to learn about SEO and the basic concept of content optimization. Practices that can harm this process are also included as something to be aware of.
In this chapter, you will learn what content management is and about the phases of content management. You will also find out about content management systems, most commonly used CMSs and basics functionalities of CMSs that will be used when making content available to the online users.
As the way of delivering content to the online users, content distribution is an essential part of content marketing. This chapter is focused on different content distribution channels and how each of them can be used to promote your content online. Different content distribution strategies such as content syndication and repurposing content are also part of this segment of the course.
8. Content Marketing Metrics to Monitor
Relevant metrics tell a lot about your content, which is why it is essential to include monitoring and evaluation in content marketing. Here, you will learn about the most important metrics to analyze performance and conversions, as well as how to monitor those metrics.
Understanding what content marketing is and all the things that influence content creation and distribution enable you to get the idea on how to develop your content marketing strategy. It starts with determining goals, choosing the type of content and defining your target group, and continues with details about content creation and planning content distribution. All of these aspects should be included in your strategy to help you organize your activity and analyze the performance of such a strategy.
10. Top Challenges of Implementing Content Marketing Strategy
Marketers face a series of challenges when implementing content marketing strategy. The most common ones are included in this chapter, along with ideas on how to prevent them from jeopardizing your content performance.
11. Content Marketing and Online Marketing
Analyzing content marketing as a part of online marketing and creating a strategy that integrates well with all other segments of online promotion ensures you maximize the efficiency of your approach. This chapter will show you how content marketing is connected and conditioned by other parts of online marketing and why you need to explore those as well. The ending section of this chapter is about benefits of content marketing.
12. Content Marketing and Influencer Marketing
It has been increasingly discussed how influencer marketing is changing the ways of online promotion. The importance of influencer marketing will be even more important in the upcoming years, so understanding what it is and how you can leverage this approach is certainly something you need to include when exploring content marketing.
13. Tools and Apps to Help You with Content Marketing
A lot of tasks and activities can be simplified with the use of right tools. Your goal is to explore the list of recommended tools and find those that make your job on day-to-day basis easier. The list of tools in this chapter includes content creation tools, content optimization, content management, influence marketing tools and content distribution tools.
14. Content Marketing Glossary
This glossary includes the definitions of the terminology used in the course that might require additional clarification.
The goal of this questionnaire is to help revision of the materials covered in the course. It consists of 50 multiple-choice questions related to the key aspects of the course chapters.
Conclusion represents a brief summary of what has been covered in the course alongside with further development and how content will remain an important element of online marketing in the future.
How to pass exam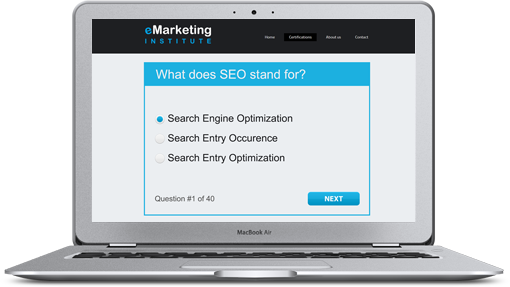 How to pass exam
The pass score is 50%. There are 50 multiple choice questions in each exam. In order to get certified you need to answer correct on 25 out of 50 questions.
Time limit: 60 minutes.
The difficulty level of this course is: Beginners level.