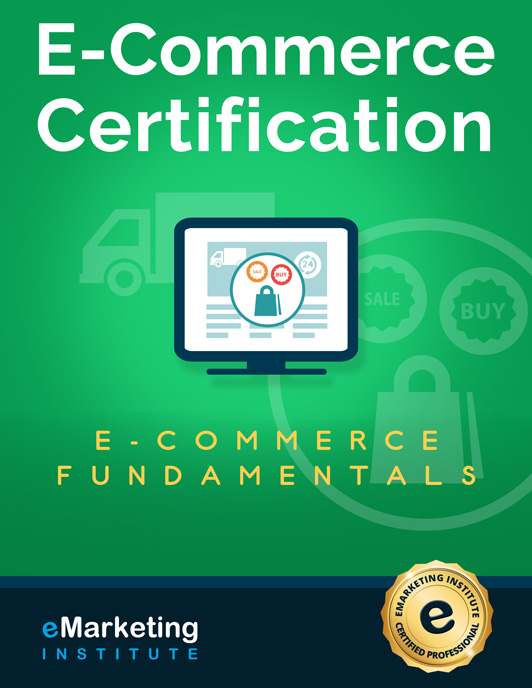 E-Commerce Course and Certification (FREE)
4.63
(5,514 ratings) 27,495 students
Everything is 100% FREE!
161 Pages eBook
FREE Course and Certification
Difficulty Level: Beginners
Sign up to this free course

Certification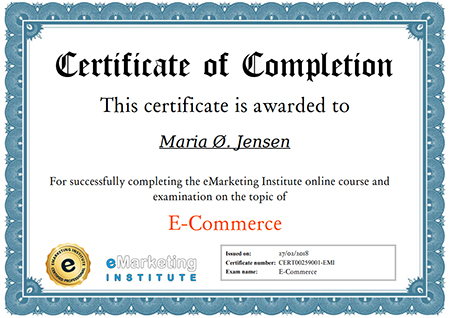 E-Commerce Certification
Get a Professional Certification
Showcase Your Skills
Improve Your CV/Resume
Grow Your E-Commerce Career
Course materials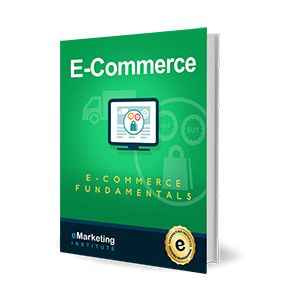 Course materials
HTML and PDF-format
161 pages
50 sample questions
Knowledge required to pass test
Course overview
E-Commerce Course Overview
We are witnessing the massive popularity of e-commerce as a way to do business in this internet-oriented world where looking up products online has become the usual process of buying something. Modern buyers are researchers first. They want to know more, they want to watch and read the reviews, and they want to find the best value for the money. If you are starting an e-commerce business, these are all the aspects to have in mind. The course opens with this analysis of the digital buyers and continues with an explanation of what e-commerce is.
Before it is time to make your products officially available, you will need to focus on a series of tasks to ensure you really manage to reach and convert the online visitors. Creating a business plan and choosing an e-commerce platform are the first steps. You will also need to understand what having an e-commerce website really means and everything you need to make this website operational. Furthermore, you need to understand the legal aspects of having an e-commerce website. This requires creating several documents which will help you regulate the relationship between you as a business and your customers.
Once your business is live, management is the primary task you will handle. However, your job must not end there. Instead, you need to look beyond and explore options for promoting your business to the online audience. This section shows you how to leverage the power of social networks, video as a content format, how to get on Google, how to use and build your mailing list, etc. Paid advertising options are also mentioned as ways to promote your business. All of these strategies help you build your influence, increase the reach and eventually increase sales.
Besides using different online marketing strategies, the analysis of abandoned cart is also a recommended practice for defining new ideas on how to increase sales. Then, you need to focus on SEO. Search engine optimization is going to help you get organic reach, and this is very important in the process of acquiring new customers and spreading the news about your brand. Three main sections you will learn about in this course include e-commerce SEO with recommended SEO practices, common issues with tips on how to deal with them, and mobile SEO with crucial aspects that affect mobile-friendliness.
The next section includes details about online marketplaces and how this strategy could be used to accompany your e-commerce website. Both advantages and disadvantages of using online marketplaces are covered in this chapter. The final focus of the course will be understanding the customers and the buying process.
Advantages and disadvantages of having an e-commerce website are the topic of the conclusion, as well as how consistency and dedication are required for a successful online business. Ultimately, understanding that e-commerce is a part of the unified system together with other segments of online marketing will help you go further with your study of this topic and find new ways to optimize and improve your e-commerce website.
Chapter content
Chapter content
The opening chapter of the course is focused on buyers and sellers and their place in e-commerce. The relevant statistics highlight two major concepts: e-commerce market is rapidly growing and the fact that understanding the behavior of digital buyers is important to succeed with e-commerce.
From this section, you will learn what e-commerce is, about the advantages and disadvantages of having an e-commerce business, etc. A brief history of e-commerce is meant to show you how the massive expansion of the internet has become a ground for the development of e-commerce as an industry.
When you think about setting up an e-commerce business, think of a business plan as your starting point. This plan will be a foundation upon which you will build your e-commerce business. The major concepts covered in the business plan are grouped into three categories: essentials, product information and investment. Additional details that can be included in the business plan are also included here, along with the benefits of having a business plan in the first place.
The legal aspect of running your e-commerce business helps you define and regulate your relationship with the customers. It helps you provide seamless cooperation and instructions on how to deal with potential issues. A special attention is devoted to trademark registration, defining the terms of use, refund and privacy policy.
5. Having a E-Commerce Website
Find out what having an e-commerce website really requires. From choosing a CMS platform to designing the actual site pages, store and product pages, to a shopping cart, shipping methods and payment gateways, this chapter includes everything you need before you can set up an e-commerce website.
6. Choosing an E-Commerce Platform
E-commerce platform is a website integration that helps you manage your online store. Multiple e-commerce platforms are available, and this chapter presents some of the most popular on the market together with the features each of them comes with.
7. How to Promote Your Business
Promotion of your e-commerce business will be an inseparable part of your workflow. In this chapter, you will find out about different methods for promotion, both free and paid, that can help you boost sales in your online store.
8. Strategies to Increase Sales
In this section, you will find out about three most commonly used strategies to increase sales. You will also get a quick guide on how to use each of them to start getting the results fast.
Optimization of your product pages is an essential task if you want to attract organic traffic. This is why understanding the basics of SEO for e-commerce is one of the tasks you should focus on. Keyword research, site structure, on-site SEO, and link building are analyzed from the point of view of the e-commerce and how these should be used to improve organic visibility and traffic.
10. Common Issues with E-Commerce SEO
A couple of issues might occur during the process of optimization of an e-commerce website. Duplicate content is certainly the one that occurs the most, but there might be other problems as well. This is why it is helpful to be aware of those and how you can deal with them.
In this chapter, you will find out about aspects relevant in the process of optimizing your website for mobile devices. Since the significant percentage of traffic comes from mobile devices, this section of the course is quite relevant in the process of website optimization and improving the user experience.
12. Exploring Online Marketplaces
The ease of use and power to make your products available to the existing customers are often the reasons why people decide to sell on online marketplaces. Besides the differences between marketplaces and having your own e-commerce website, you will also learn about selling on Amazon and eBay, two of the most popular online marketplaces.
Understand customers, their user experience and buying process are all crucial for improving your business strategy, and drastically increasing sales. In this chapter, you will also learn about types of customers and buyer persona.
Some of the used terminologies might be unfamiliar to you, which is why this chapter offers further details about relevant terms for understanding the course.
You will reinforce your knowledge of e-commerce with this questionnaire. Featuring 50 multiple-choice questions, this segment of the course will help you pay attention to the most important concepts covered in this course.
This section of the course wraps up the topic with an analysis of whether an e-commerce business is the one for you. It also stresses the fact that exploring online marketing is very important to succeed with e-commerce.
How to pass exam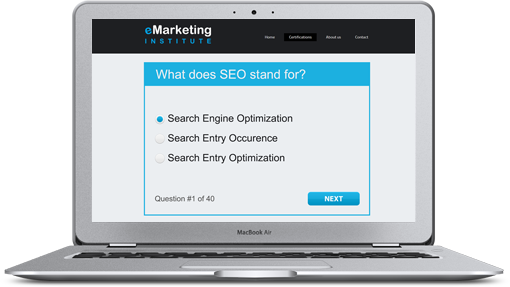 How to pass exam
The pass score is 50%. There are 50 multiple choice questions in each exam. In order to get certified you need to answer correct on 25 out of 50 questions.
Time limit: 60 minutes.
The difficulty level of this course is: Beginners level.