12. Exploring Online Marketplaces
Although e-commerce as an industry is associated with having an online store, there is actually more to the story. On the one hand, there are sellers that create their online stores hosted on their websites. However, there is always an option of using online marketplaces for selling products. In fact, some sellers choose to pursue sales success on marketplaces exclusively. Regardless if you choose an online shop or online marketplaces, knowing the benefits and possibilities online marketplaces provide is certainly helpful.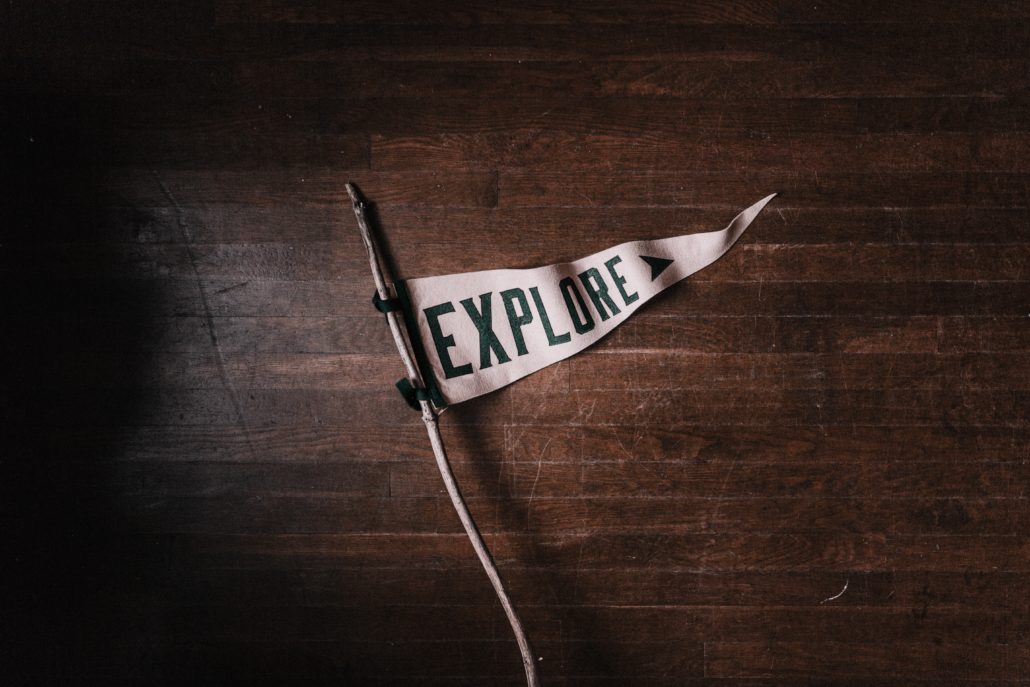 Image: https://unsplash.com/photos/z55CR_d0ayg
What is an online marketplace?
An online marketplace, or simply a marketplace, is a type of e-commerce website specialized in the sales of product or services provided by the multiple third parties. In this case, there is no single seller behind the marketplaces, but instead, the marketplace merely becomes a platform that is supposed to unite multiple sellers and buyers, usually on the global level. In a way, the marketplace is an intermediary between sellers (also called merchants) and buyers (also known as customers).
Online marketplace vs. e-commerce website
Even though an online marketplace is a type of e-commerce, there are still differences between this kind of business model and an e-commerce site, which has been the topic of this ebook so far.
Hosting
The first distinction is the hosting of the online store. With an online marketplace, you just register an account on the platform, and you can start selling online. You will usually have to go through a particular process to verify your account, integrate a credit card, or provide other details about your business, but once that is all over, you can start creating product pages. After that, the pages will soon be published, and the products (or services) will be available to the customers. There is no process of buying a domain, a hosting plan, designing a website or integrating payments. Also, there are no costs associated with these, so site maintenance costs are non-existent when it comes to the online marketplaces, as opposed to an e-commerce website.
Payment
Despite the fact that there are no hosting costs, online marketplaces still have to earn their income to be able to provide this platform, and they do this through fees. Each online marketplace has its own payment system, which collects some kind of fee for using the service. This fee can either be paid in advance (as a sort of membership), or introducing fees for different services which include some of these:
Sellers' fee
Buyers' fee
Bank transfer fee
Chargeback/Return fee
Currency conversion fee
Technology support
The marketplace charges its usage through these payments. The fees and other rates are usually available online, so you can see the exact terms before you join a marketplace.
Competition
Another significant distinction between using an online marketplace as opposed to an e-commerce website is direct competition. You always have competitors in the e-commerce business, but when selling on an online marketplace, your competitors are selling on the same platform. You use the same product page design available on the marketplace, and you are usually part of the same payment system.
It might become harder to differentiate yourself from the competitors this way, but you still have to try to do so. For starters, follow the best practices for optimizing a product page. Even though it is not your website, product page guidelines are still valid. So think about keyword usage, elaborate description, competing images, etc. Make your product pages distinguished and recognizable using optimization methods and branding (add the logo to the images, or use a unique seller's name).
Customers
Regarding customers, there are also differences. An online marketplace usually has its base of clients. A marketplace is usually popular among online users and thus attracts them with its reputation. This means that once you start selling through a marketplace, you already have a certain base of online customers you will reach. They use the website's search engine to look for products and browse based on different criteria using available filters.
This is an entirely new way of reaching customers because with an online store you try to reach consumers through a search engine. It is more difficult to build trust, especially having in mind that the customers are supposed to provide you with sensitive details, such as credit card information. When they buy through a marketplace, they usually already have an account (or are required to create one for the first purchase). They have trust into the whole payment system due to the reputation of the online marketplaces.
Selling on Amazon
One of the most popular marketplaces is Amazon. It offers two types of plans. The Individual plan comes with no monthly fees, but instead, the platform collects $0.99 per each item sold, plus referral and variable closing fees. The plan is perfect for the users selling fewer than 40 items per month. On the other hand, there is a Professional plan for those selling more items per month. The Professional plan includes a monthly subscription fee, currently priced at $39.99, plus referral and variable closing fees.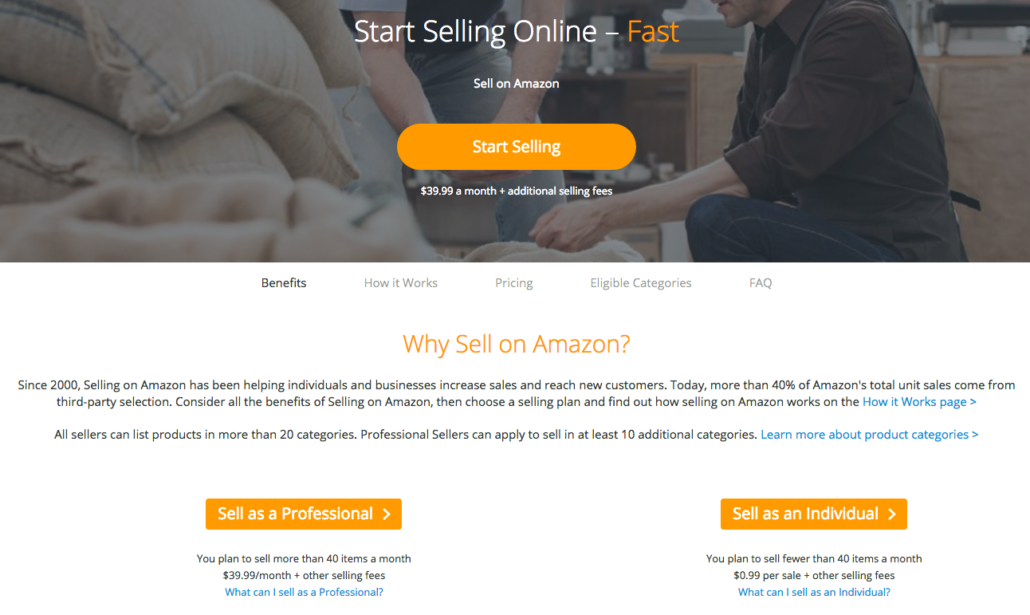 To calculate the exact fees and costs of selling through Amazon, check out this page for Amazon selling fees.
What to sell?
Before you decide to start selling on Amazon, you should decide what you are selling. Products on Amazon are divided into two categories. Open categories include the products that can be listed without any permission from Amazon. The products within this category can be used, but some categories within this group only allow new products. Closed categories on Amazon require approval.
When a category requires approval, it means that the product can be listed only with the permission from Amazon and this permission can be requested only by sellers with a Professional selling plan. The reason why there are the limitations here is the fact that Amazon needs to make sure that the products meet the standards. Some categories have special requirements, and some are not even accepting new sellers at all. To make sure where you stand when it comes to selling on Amazon, check this link for more information: Amazon Categories.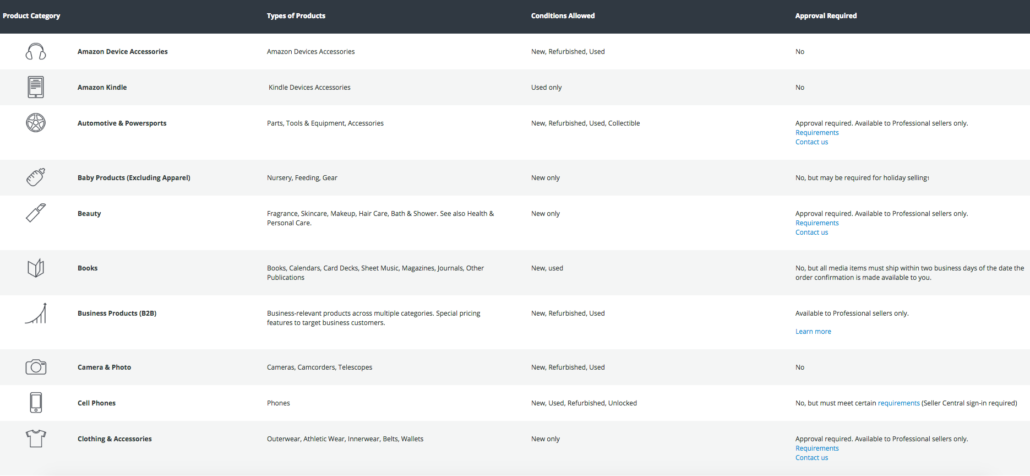 How to start?
Visit the Amazon homepage and find the "Sign in" button. The drop down menu will also have an option to click on if you are a new customer, which will take you to the page where you will create your own Amazon account.
You will need:
Name
Email address
Password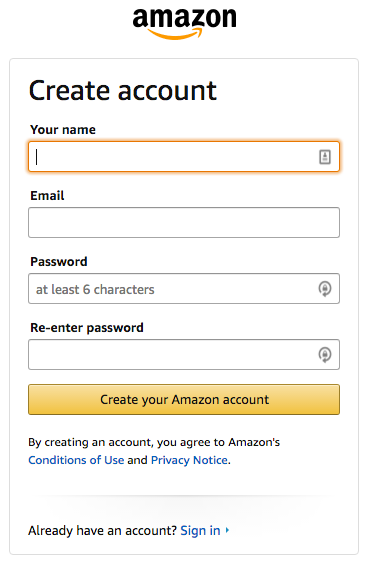 Once you are registered, it is time to list the products. There are two ways to do so:
List products that are already on Amazon – In this case, the description is already available, so you can only specify how many products you have to sell, condition and shipping options
List products that are not yet on Amazon – You will need to list all product attributes (title, description, etc.)
When you finish creating the listing, your products become visible to the Amazon customers. One way to make sure you increase the visibility of your products is to provide:
Complete and detailed description
High-quality images
Accurate description and product details
Shipping and getting paid
As soon as a customer places an order, Amazon notifies you. There are two ways to handle shipping.
Ship yourself
In this case, you will be handling shipping yourself. There will be shipping costs involved, which are usually added to the product price so that the customers will be charged more.
Fulfillment by Amazon (FBA)
The second option is using Amazon's service which is trusted by the customers and offers perks such as free two-day shipping, free shipping or other benefits. Amazon has fulfillment centers where your inventory is stored and managed online. With FBA, Amazon handles picking, delivery, customer service and returns, which is why this service is top-rated among customers who want a trustworthy handler to be responsible for their deliveries. Products that are part of FBA program have the Prime logo next to it. This service does increase your monthly budget for selling on Amazon because you will have to pay for the storage space and the orders Amazon fulfills for you.
The final part of the process is getting paid. Amazon sends payments to your bank account which is linked to the Amazon account. Payments are sent at regular intervals.
Selling on eBay
eBay is another popular marketplace with a huge base of online shoppers you can reach as soon as your product is listed on the website. You start by joining the platform using the option "Register". You will need to provide your name, email address, and a password. Besides creating an account, you will need to meet these requirements to start selling on eBay:
Create a seller account
Confirm your phone number to verify your identity
Provide a valid credit card, debit card, or bank account
Provide information on how you will pay seller fees
Select the payment methods you will accept
Make your Feedback profile public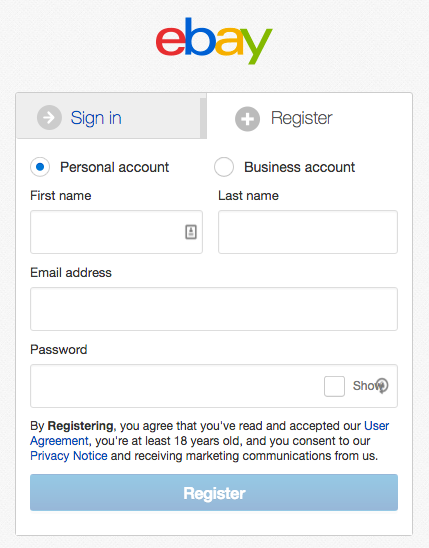 Start selling
Determine which the products you would like to sell and make sure those are legal to sell on eBay (here is a list of prohibited items). You will then choose the selling format (Auction or Buy It Now). Select a category, upload the listing and determine the price.
There are a couple of ways you can improve your chances of selling through eBay:
Provide high-quality images of the product
Use listing upgrades to customize the appearance of your listing
Set up your Q&A
Communicate with the buyers
Leave the buyer feedback
Have a clear returns policy and issue refunds promptly
Send products immediately with appropriate packaging to protect the product during transport
Use selling tools to save time and automate seller tasks
Maintain buyer satisfaction to get great feedback
It is also helpful to check out these documents to further explore your possibilities of becoming a seller on eBay.
eBay allows listing up to 20 items a month for free, after which you will pay a £0.35 fee for extra items you list. This fee excludes Classified Ads listings and items listed in the Cars, Motorcycles & Vehicles category.
When you sell an item through the platform, you pay 10% of the final transaction value, including postage, but this final value will never be over £250. There are optional listing upgrades which require an extra fee.
When it comes to an eBay store, the basic shop subscription starts at £19.99 per month, with 100 listings available and 8% final value fee (instead of 10%).
An eBay store
An eBay store is a perfect solution if you want to use this marketplace as your go-to e-commerce solution. Unlike regular seller's account, the store offers marketing and merchandising tools, customization features and branding options to maximize the success of your business. Store sellers can even create customized headers below the standard eBay store headers and completely customize the store home page using HTML. A "Visit store" tag next to a seller's user data indicates that the seller has an eBay Store.

The requirements you will need to meet for opening an eBay store are the following:
Having an eBay seller's account
Using a verified PayPal account
Not having "below standard seller performance" rating which can be visible in your Seller Dashboard
If you fulfill these conditions and want to set up an eBay store, you can do so using "Subscriptions" option in your Account tab. You will then click on the option "Manage My Store" to start designing the store and listing items.
eBay stores have different levels which affect subscription price and other fees. To calculate the monthly subscription value, you can provide more information about your average monthly sales and system will show estimates for the store subscription.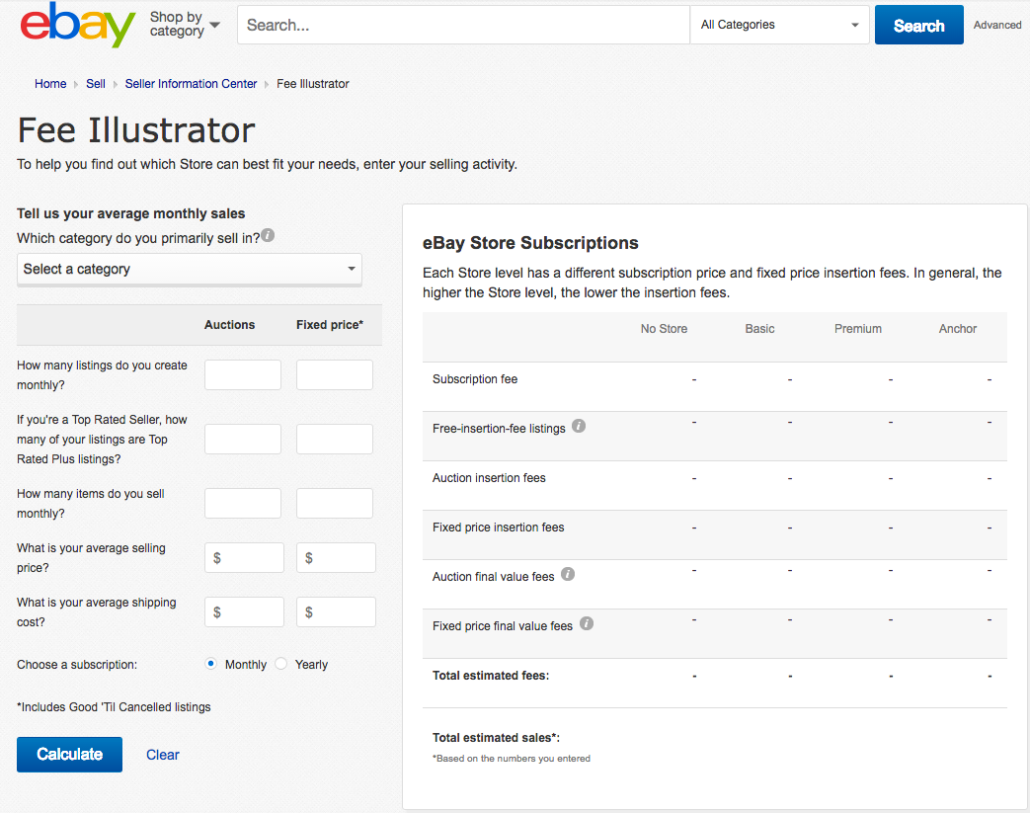 Image: http://www.fees.ebay.com/feeweb/feeillustrator
Other marketplaces
These two platforms are considered the leaders in the online marketplace industry, mainly due to their immense popularity worldwide and an impressive number of buyers. However, the possibilities for using marketplaces for an e-commerce business do not end here because there are many more marketplaces you can explore.
The bottom line is that marketplaces offer a lot of possibilities, especially when it comes to opportunities to reach customers. Once you join a platform, your products are instantly available to a huge community of buyers, while your own e-commerce website needs more time to get visitors and actually convert them.
Apart from fierce competition, there are those additional subscription costs and other fees you will have to pay to be able to offer your product on a marketplace. However, this can become quite a cost-effective solution for you because in reality, running your own e-commerce website is not free either. One way to decide if you want to work on marketplaces, and which one to choose is to consider your own business and product you have to offer. Analyze both advantages and disadvantages and how those would reflect your business. Explore possibilities and limitations that come with this strategy to determine if this is an approach you want to pursue.