6. Choosing an E-commerce Platform
Once you have finished planning, the time comes to start working on bringing your e-commerce website to life. You have a vision of what you want to do and you have your goals in mind. Now it is time to realize this vision by creating a store that perfectly reflects your idea. 
To begin with, you will consider using one of the e-commerce platforms as a website integration that will enable you to take advantage of numerous features to set up and manage an online store.
Shopify
Shopify currently hosts over 400,000 active online shops. The platform is constantly evolving with new apps and extensions, growing in popularity, especially among beginners. The platform offers:
Customization of the store with 100+ templates and 1500+ apps
Unlimited bandwidth, products, and inventory data
Manual order creation
Discounts codes and gift cards
Website and blog
Tracking sales and grow trends
Free SSL certificate
24/7 customer support
Free 14-day trial
There are three pricing plans, starting from Basic Shopify, available at $29 per month. For a growing business, you might want to consider Shopify plan ($79 per month) or even Advanced Shopify ($299 per month) which includes more advanced features, such as reports. Shopify Plus is an enterprise-grade solution but to find out more, you will have to send an inquiry. Finally, if you want to sell on Facebook exclusively, you might want to explore options offered by Shopify Lite, available at $9 per month.
Ability to connect with a Facebook page and sell on this social network, as well as a mobile-friendly shopping cart, are the features that certainly make Shopify a platform suitable for reaching online users. The process of using the platforms is also pretty straightforward with simple design and integration of 70 external payment gateways, making accepting payments easy.SEO tools and secure hosting are also benefits offered by the platform. The main drawback is the fact that running the store might become a bit costly, with additional extensions which are paid separately, or when you do not use Shopify Payment, in which case additional transaction fee is applied for every sale.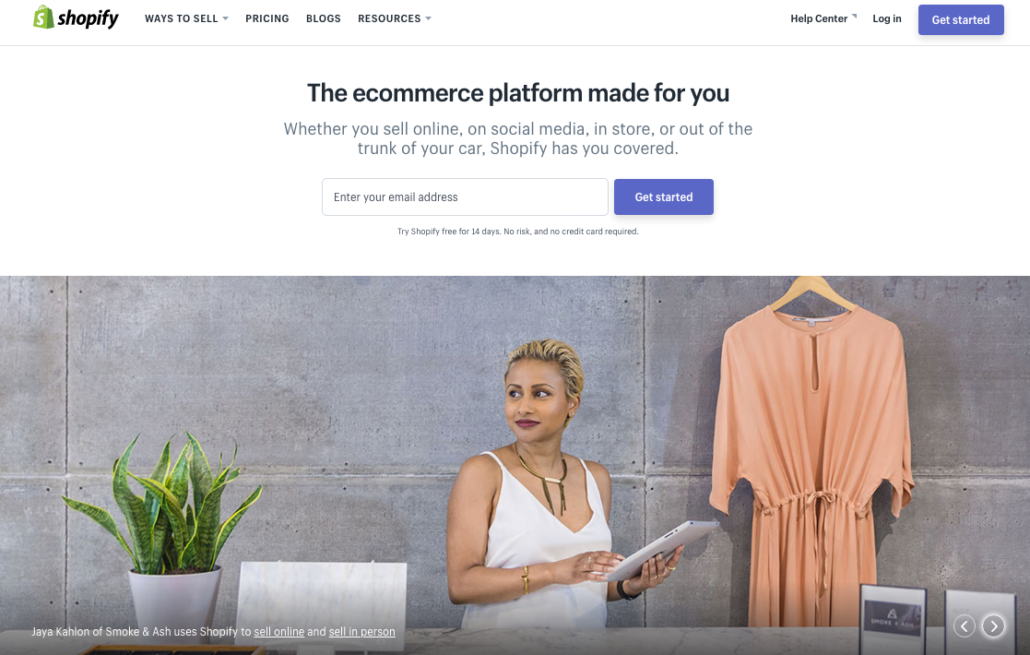 Image: https://www.shopify.com/
BigCommerce
BigCommerce offers a variety of solutions suitable for businesses of all sizes. The platform allows creating stores with engaging features to helps increase sales. In fact, the solution is perfect for those who are not much tech savvy and are reluctant to tamper with the code themselves. Highly customizable platform with a great selection of e-commerce templates, reliable hosting, and seamless migration process are some of the features that make BigCommerce a desirable solution for an e-commerce business. Other benefits of using this software include:
Single-page checkout
Coupons, discounts, and gift cards
Professional reporting tools
Product rating and reviews
Integration with Facebook, eBay and Amazon, Pinterest, Google Shopping
No transaction fees
Unlimited products, file storage, and bandwidth
Unlimited staff accounts
There are not many plugins because the platform itself is very customizable and already provides a set of integrations to help you optimize and boost the performance of the online store. The plans start with the Standard plan (available at $29.95 per month), the most popular Plus plan ($79.95 per month) and Pro plan ($249.95 per month). Finally, there is the most advanced solution called Enterprise, but to get more details, you will need to get in touch with the customer support. There is a 15-day free trial period.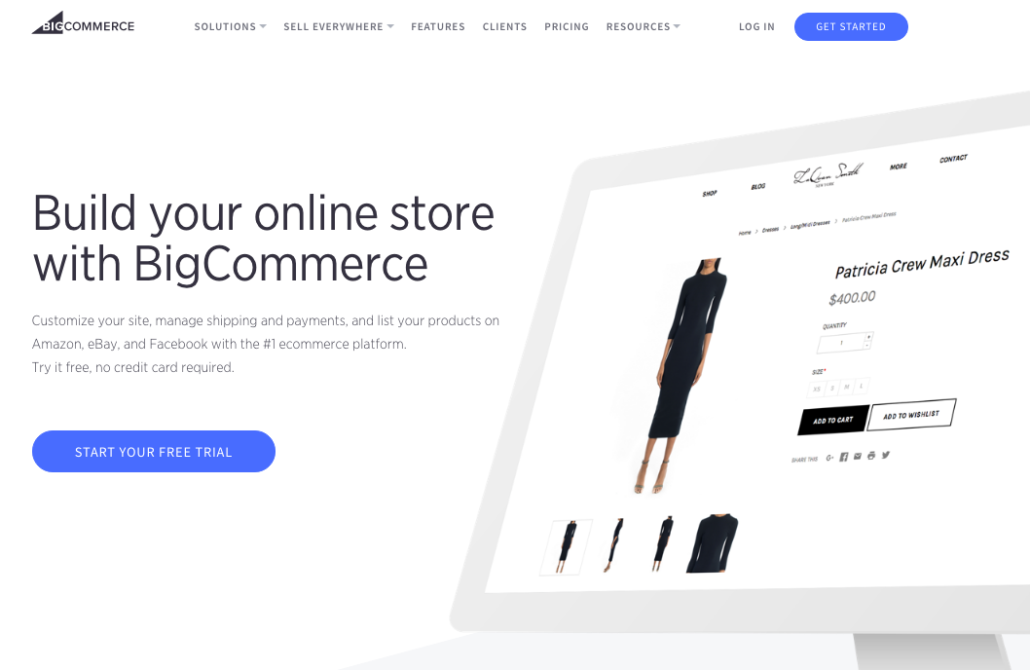 Image: https://www.bigcommerce.com/
Magento
Another established name in the world of e-commerce is Magento, offering solutions for small businesses, as well as advanced technology and reliability recognized by some of the top players on the market, including Coca Cola, Charlotte Tilbury, Burger King, etc. Over 250,000 merchants are using the platform to grow their businesses and increase sales. Some of the available features the software comes with are:
Flexibility to customize the platform to provide branded experience
Open source platform
Thousands of plugins and extensions
Extensive documentation and resources
Tools to attract and retain customers
Product bundling, gift with purchase, and customer reviews
Free Magento social integration to catalog products on social media and create advertisements
For beginners, Magento offers a free Magento Community Edition platform. It is a good way to experiment with the features and learn how to integrate and grow your e-commerce business with this platform. There is no clear pricing on the website regarding solutions for growing businesses and large enterprises. The best way to find out more is to schedule a free product demo.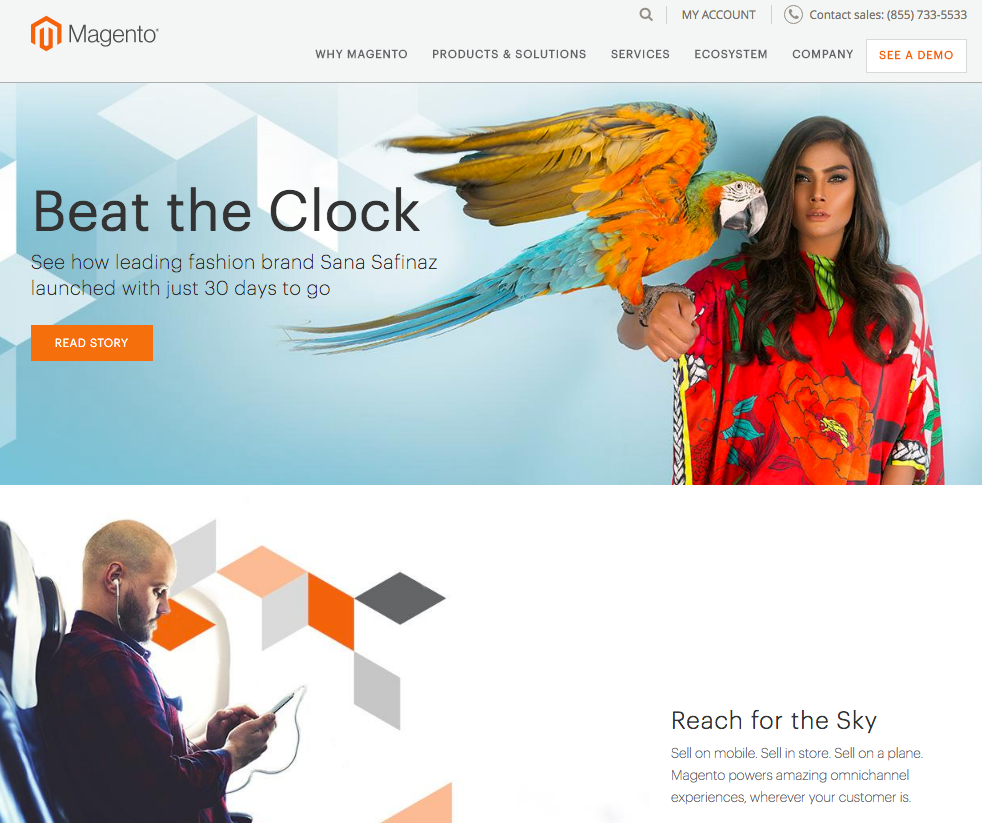 Image: https://magento.com/
WooCommerce
WooCommerce is an ideal e-commerce solution if your blog is hosted on WordPress platform. The software is specifically designed with WordPress in mind, providing hundreds of free and paid extensions to help you fully customize the store based on your requirements. The software seamlessly integrates with WordPress, and it offers easy migration from other platforms. Features provided by WooCommerce include:
Selling both physical and digital products worldwide
Mobile-friendly platform
Marketplace with free and paid extensions
Comprehensive documentations related to setup, extending, theming, etc.
Unlimited number of products
Secure code
Pre-installed payment gateways
Geo-location support making shipping and tax calculation simpler
SEO-friendly platform
Discount coupons and codes
Built-in analytics + 3rd party integrations
WooCommerce offers a self-hosted solution, which means you retain full ownership of the information and data shared through your e-commerce store. There are no transaction fees, and you will have support available for all the paid products provided by WooCommerce. Getting started is free. You will log in to your WordPress account and go from there. To get the most out of your store, you will probably need to use some of the extensions, such as:
WooCommerce Subscriptions – If you are going to use recurring billing to your membership website(from $199)
Products Add-Ons – To create additional options for products, including select boxes, text areas, custom price input, etc.(from $49)
WooCommerce Bookings – It enables appointment bookings on your own website (from $249)
Stripe – It allows accepting different credit cards directly in your store (free)
Product bundles – It is used to create customizable offers and product bundles (from $49)
The purpose of these extensions is to provide advanced features and functionalities for running an e-commerce business, which is why it is worth exploring the features and how those can help with optimizing and improving your store and customer experience.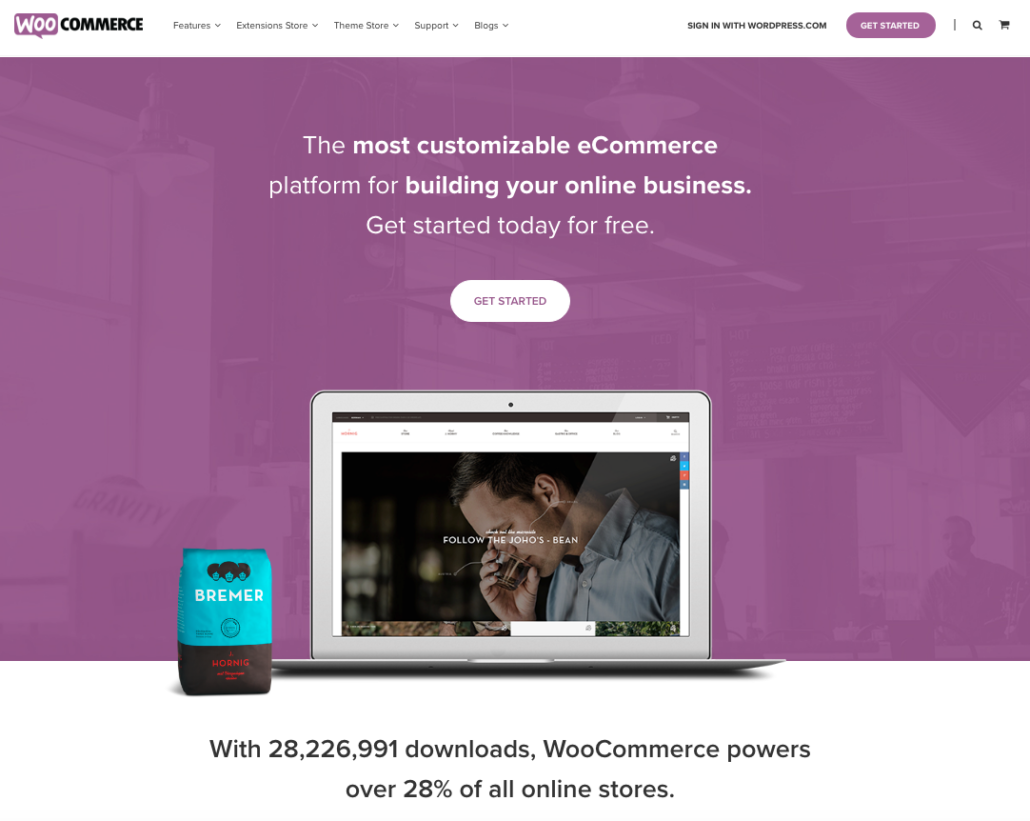 Image: https://woocommerce.com/
Volusion
Besides an e-commerce platform, Volusionis an all-in one solution with options to grow your business with built-in SEO management, newsletters, and CRM system. This provides an interesting option for hosting an e-commerce website even if you are only starting out and exploring the market. You can upgrade at any moment enabling you to unlock more features you might need as your business grows.
All plans include features such as:
Free, responsive themes
Securely accepting payments
Built-in SEO tools
Social media integrations and reporting tools
Expert support plus helpful resources
Inventory management
There are four plans, starting from Mini (available at $15 per month) with a limit of 100 products and 1GB of bandwidth. The Plus plan is a more advanced (priced at $35 per month) with 1000 products and 3GB of bandwidth. In case you need a solution that goes beyond these limitations, you can choose Pro plan (the price is $75 per month) with 10,000 products, 10 GB of bandwidth and priority support, or Premium plan (for $135 per month) with unlimited products, 35GB of bandwidth and dedicated account manager. A free trial is available during the 14-day period. Advanced features you can unlock with more expensive plans include:
Rating and reviews
Newsletters
Abandoned cart reports
eBay and Amazon integration
API access + batch order processing
Deal of the day + customer loyalty plan
With comprehensive website builder and responsive themes, the platform allows creating high-quality e-commerce websites with no coding experience. You will have full control of managing the content, with customization options to help you explore the benefits of your content. It is quite easy to connect the platform with the most popular tools for an e-commerce business that provides additional functionalities. Finally, the built-in SEO management and reporting features are powerful options to explore the influence of your website and your content, which helps with running your online business.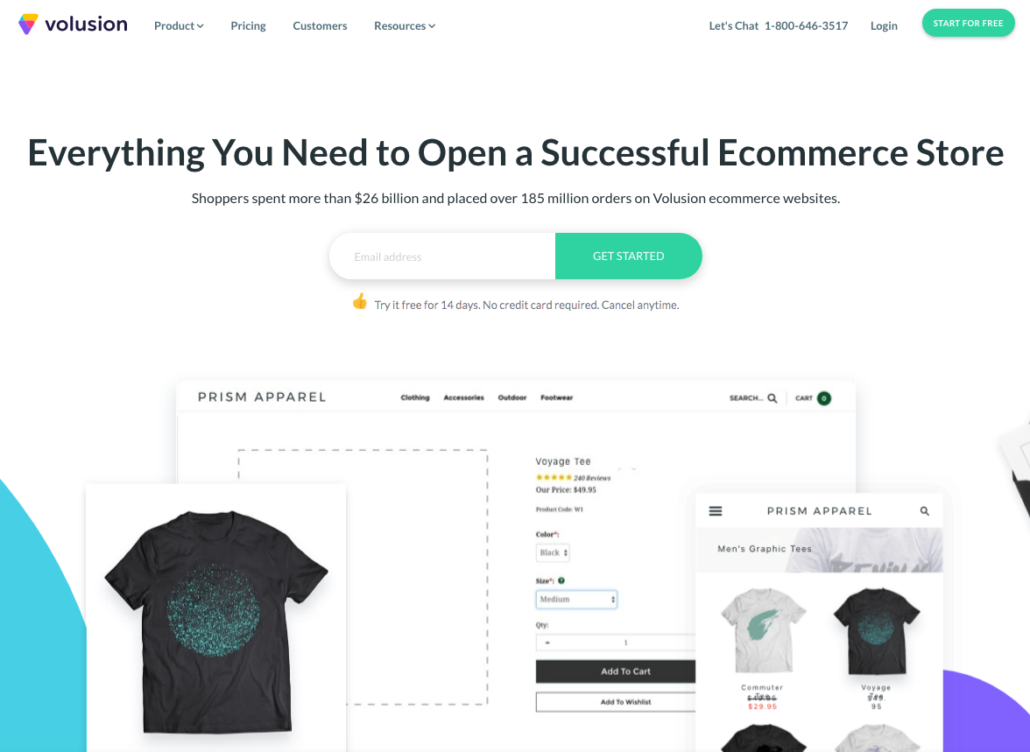 Image: https://www.volusion.com/
You will notice a lot of similarities between platforms we have mentioned here, and chances are you will find more platforms that provide a solution for running an e-commerce website. The choice should be based on the needs of your company and the budget you can provide for the platform integration. When it comes to choosing different plans, try using the solution that is enough for your current needs, but always make sure that there is a possibility to upgrade to a more compressive solution once you need it.