4. Start a Webshop
So, you have checked out the marketplaces, but you still prefer having your own webshop. Then the topic of e-commerce is something you need to explore, and this section of the ebook will be a perfect start.
First of all, having a webshop requires more work than selling through marketplaces and similar services. At the same time, it offers much more flexibility, a possibility for growing and expanding your business.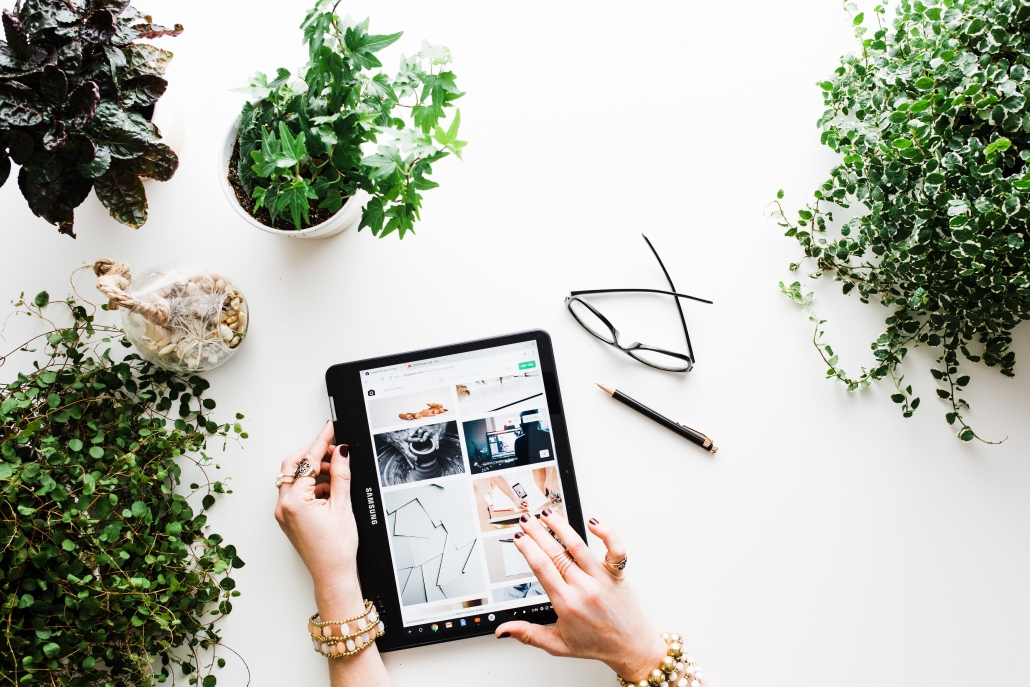 https://unsplash.com/photos/W1B2LpQOBxA
Set up the website
The first thing you will need is a website or blog which will be linked to your webshop. To create a website or a blog, you will need a couple of things:
Platform
You will need to choose a self-hosted platform to integrate a webshop. Hosted platforms like Tumblr or Medium do not offer enough flexibility and are not recommended in cases when you are starting a webshop. Explore the opportunities, and choose some of the platforms such as WordPress, Joomla, Drupal, etc.
Hosting
Hosting is a virtual space where your site data are stored and made available to the online users. You can find hosting companies online and choose one of the plans they offer. Ideally, you should research the types of hosting available and select the option that will be perfect at the moment you are starting out. Hosting companies often limit their plans with bandwidth, storage, the number of website, installed apps, etc. You need a plan that will satisfy your current needs, but also be able to adapt as your business grows, so you can quickly switch to a more advanced solution.
Domain
Website or blog domain is your unique URL that will be used to reach your online content. Most hosting companies offer the possibility to register the domain as well. When buying a domain, you need to make sure that the name you are planning to use is available. It should be something related to your product or brand if you already have the name of that product or brand.
Social media channels
Social networks could be very useful for connecting with your followers and increasing the credibility of your brand, which is why you should set them up during the process of setting up your website. Social networks will also give you lots of options to advertise your products.
Subscribers list
Email marketing can be quite a useful tool for online promotion. When you set up your website or blog, think about ways you can encourage people to become your subscribers and follow your email updates. For starters, you could have a subscribe button. Then you can restrict the access to a certain part of your website and require users to register on the mailing list in order to gain access. Also, you could offer free downloadables, samples or something your potential customers would appreciate in exchange for an email address.
These are all the elements required for setting up your website, but you will need to have in mind that this is your online presentation. It needs to look credible and engaging. It needs to attract people and provide enough information about you and your products. Also, it needs to be indexed by the search engines and shown in the search engine results. This means that content, content optimization, and SEO are all the factors you need to have in mind when creating your website or blog.
Set up the webshop
The next step is creating the actual webshop. For this, you will need several things.
E-commerce integration
Beside your platform to host a blog or a website, you need a specific layout of an e-commerce shop. This is commonly done by integrating an e-commerce platform to your existing platform. For example, if you are using WordPress to host your blog, you can easily set up a webshop with one of the e-commerce platforms such as WooCommerce, BigCommerce, Shopify, etc.
What these platforms do is they provide you with e-commerce elements you will need to successfully run your online store. This includes:
Shopping cart – It is software that allows browsing and putting products in a virtual basket.
Shopping cart directly links to the checkout.
Checkout – The process during which the customer provides payment and shipping information.
Payment gateway – The final stage of buying a product online ends with payment gateway, a service that processes payment for you. The software transfers the payment information from the customer to the bank using encrypted operations.
Online payment processing requires using these services to enable customers to get hold of your products using any of the means available, such as credit cards, PayPal, etc.
Make products available
Once you have all the "technical stuff" in place, your task will be to make products available to your online customers. At this point, you have defined what you are selling and how you are selling. You know your target group, and you probably have all the materials necessary to feature the products, such as images, product name, etc.
Product categories
Whether or not you will go through this step depends on how many products you have to sell. If you are selling a lot of products, or if you plan on doing so in the future, determining product categories is essential. This way you make a logical structure for your store, allowing you to organize everything properly and making sure your products really reach online customers.
Think about how the potential customers would explore your online store. What kind of items will they expect to find in each category? Is the structure intuitive enough to enable them to browse easily?
Product page
You will then need to define product pages. Again, a lot of will depend on the number of products you are selling. If you are selling only one product (and/or a couple of varieties) you will probably opt for a comprehensive product page. What is universal for all types of the product pages are these elements:
Product name
It is the first part of the page, and it is usually the most prominent part of the text. Product name sometimes includes a brand name, or it may even be the same as the brand name. Sometimes a product name can be more descriptive. What is important is for this product name to have a keyword (regardless if that is a branded, regular or long-tail keyword) which will also be used a couple more times on the actual page. Keyword optimization is an essential part of optimizing your content, which is why you should explore the topic in more details if you want to increase the online reach of your store.
Besides keywords, the entire product page should be optimized, including relevant h tags, meta description, optimizing visual content, etc. all of which are part of search engine optimization.
Product description
Within description, you will provide more information for your customers. What is important to have in mind is this. The buyers might be your email subscribers who are already familiar with you and your brand. However, your buyers might also be online users who were browsing the internet and came across your product page in the search results.
This is why the product description should provide enough information and be relevant so that any kind of potential buyer would find everything needed to make a decision to buy or not to buy.
Here are some ideas regarding the details you can provide as a part of the product description:
Product features
Product specification (size, color, weight, etc.)
Advantages of the product
Benefits it can bring
Frequently asked questions with answers
Testimonials or reviews
Visual elements
Visual elements can help you improve the engagement level and attract the attention of the potential buyers. Seeing how the product looks like (works, is used, etc.) is often more effective than reading about it. You could use images, videos, animations, anything really, that could help you bring your product closer to your potential buyers and present a convincing argument for them to become your customers.
Here is an example of a product page with:
Product name
Price
Description
Images
FAQs
Trust signals (returns, fee exchanges)
Reviews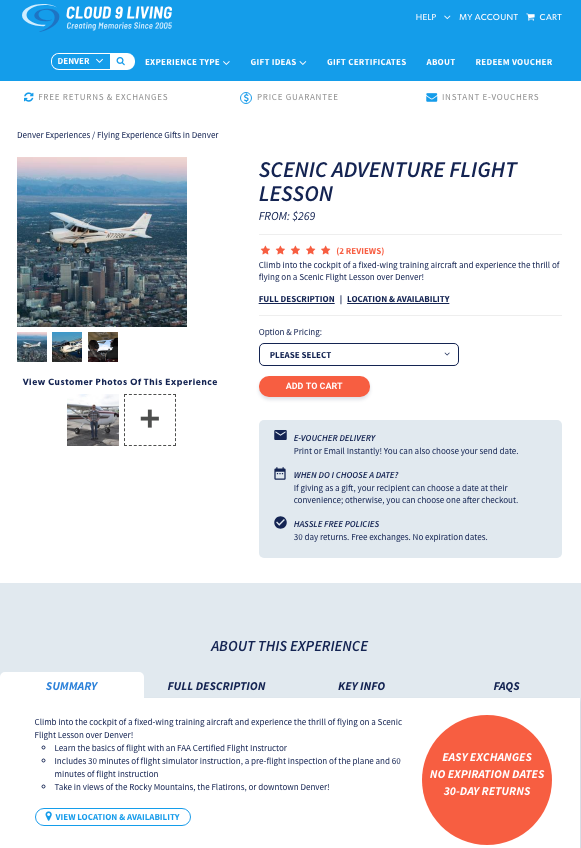 https://shop.cloud9living.com/denver/scenic-adventure-flight-lesson
Promote your webshop
The final step is the promotion of your webshop. For this, you will need to dig deeper into the topic of online marketing and how you can place and promote your products on the global market. Different strategies depend on the different type of products, campaigns, and goals. Nonetheless, online marketing presents a legitimate way to bring your product closer to your audience.
Here are some ideas on promoting your webshop:
Social networks – Use social networks to create a connection with your followers and spread the news about your products.
Paid advertising – Paid advertising is a great option to reach more online users in less time. You can use search engine advertising or social media ads.
Email marketing – If you have a mailing list, you can use this to reach your subscribers and get them interested in the products you are selling.
These are just some of the options you can explore, and it is definitely something you will need to explore more closely to figure out how you can get the most out of each of those marketing campaigns.
For further reading about these topics which will help you get the most out of selling online, check out these resources: