3. Sell Online
The first activity that you can do to make money online is to start selling. In a sense, it is the easiest activity to start with zero investment and experience. Do you happen to have an Xbox you are not using or a T-shirt you have outgrown? Maybe it is time to get rid of the clutter you have been collecting all these years and maybe earn some money along the way.
There are a lot of things and a lot of ways to sell online. Having your own webshop is the topic we will be focusing on in the next chapter, and in this one, we will see other ways and platforms to sell online.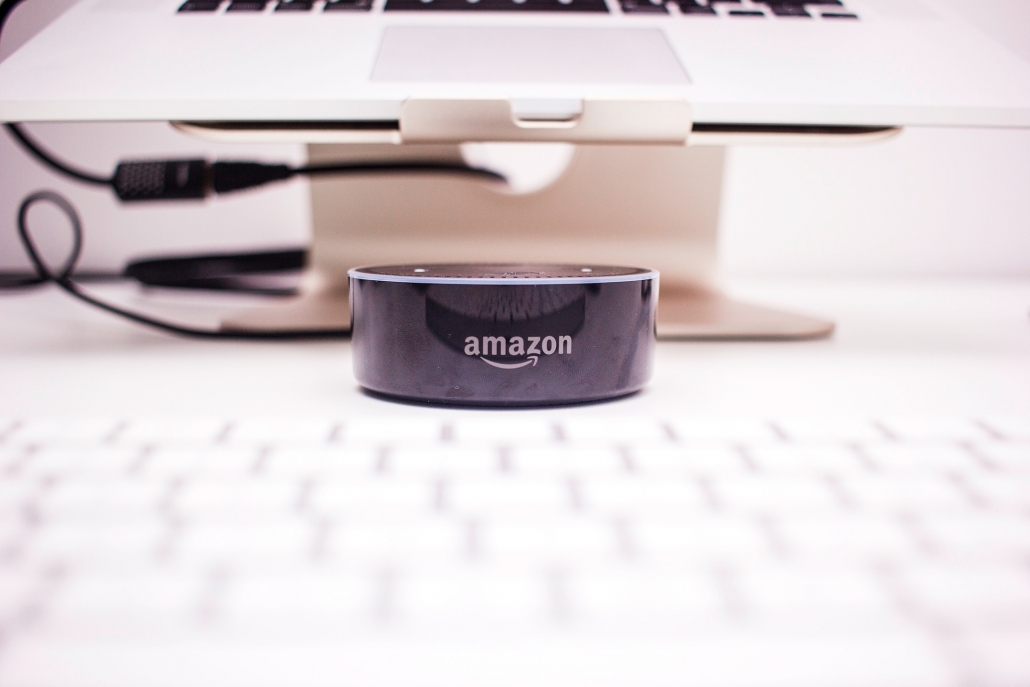 https://unsplash.com/photos/vLpO7F3iAyA
Online marketplaces
Firstly, you will need to learn about online marketplaces and what those are. In a nutshell, those are websites that enable you to register as a seller and start selling your products. Some of the most popular marketplaces are:
The process of starting to sell through these services is the following:
Register for an account – You will need to fill in an application form with the details the specific online marketplace requires, such as your personal data, information about the products you are going to sell, etc.
Wait until your account is approved to start adding products
Use the features the marketplace provides to present your products in the best way. This includes adding images, compelling description, product details, maybe even videos.
Start promoting your products and accepting payments.
Products you sell
You can make money selling all sorts of products online. Ideally, you should focus on products that are somehow related to your interest, or you have experience using. But this does not have to be the rule. You can choose to sell anything you want. Familiarity with the product may seem like a benefit in the sense that you will be better at promoting such a product. But again, this does not have to be the rule.
Another good way to choose the product you will sell is to examine the supply and demand. This kind of market evaluation helps you find out products that are most likely to sell better than the rest.
Some ideas regarding the products you are going to sell.
Selling old stuff
Although you might make some money off selling old stuff, this is not particularly a perfect way to make money. You will usually sell things at a cheaper price than when you first bought them, except in cases when you sell inherited stuff, antiques, or maybe collector's items.
Besides the traditional sales, you could also opt for auction sale, which online marketplaces (such as eBay) support. In this case, you would set up a starting price, and set the time for buyers to suggest the price they would be willing to pay for your product. Depending on the type of product and the level of demand, you might end up getting quite a big selling price this way.
Selling your products
If you are crafty and able to make your own product, online marketplaces could be a good way to start. They are actually ideal for beginners who want to keep the expenses low and avoid the hustle of setting up a full-on online store. You can sell anything you make, regardless if that is handmade hair accessories, knitted hats and scarves, or wooden picture frames.
Reselling products
You could also sell products you did not make. In this case, you will be reselling. You will find the products you are interested in selling and then you will create product pages to promote them. The advantage is that you have an amazing product variety to choose from and you do not have to be involved in the production process. The main drawback is that your selling career will depend on certain manufacturers, who are in charge of product quality, buyers price, etc.
Selling your service
The internet enables you to sell all the different kinds of services. You can sell services online, such as offering online consulting sessions. On the other hand, you might just promote your services online while you do the work offline. For example, you could be a personal fitness trainer who promotes these services on your own website. Since the topic of this ebook is making money online, we will explore this virtual realm of offering services later on throughout this ebook, and you will see different kinds of services you can sell to earn money online.
Selling digital products
It is a perfect activity if you want to sell on a global level and reach millions and millions of users. This is the greatest benefit of selling online as opposed to selling locally – the possibility to reach much more people. Different kinds of digital products could be sold online, such as music, ebooks, worksheets, tutorials, etc.
Photos
Photography is an inseparable part of websites, blogs, online marketing campaigns, etc. which is why it is always an excellent option to explore, especially if you are looking for a passive income. Ideally, you need to investigate the demand, detect what is missing and then create great photos. Of course, you will need some equipment for this, and perhaps some experience with editing photos. Alternatively, you could organize everything and then hire a photographer to do the creative part.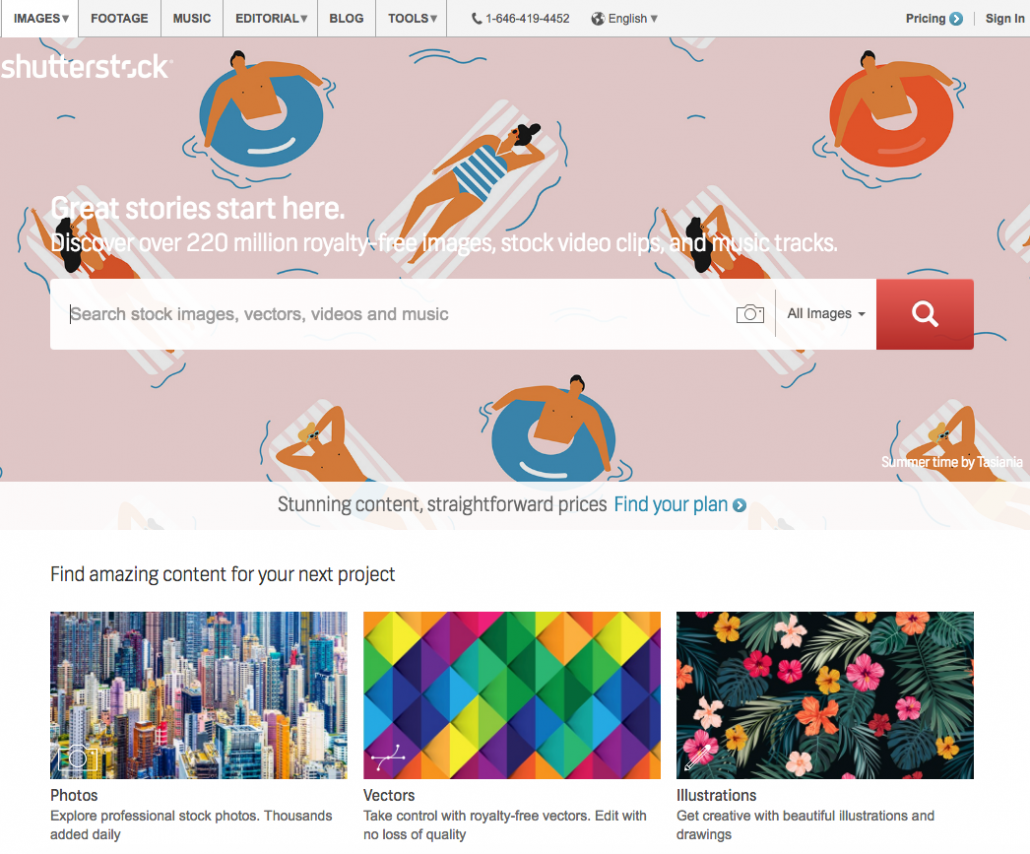 https://www.shutterstock.com/
The rest is quite simple. You add your photos to the websites that sell photos, and this is how you create passive income for yourself. You do not need to take care of the management and sales process, as the websites do that for you (for a certain fee). Also, websites that specialize in photography already have this reputation and a significant number of followers, so it is easier to reach customers this way, then to try to find customers on your own.
Besides the percentage of the sale you get as a contributor, the other thing you should consider is the exclusivity clause. Some websites require you to accept that you will grant the right to sell the photos on their platform exclusively. This prevents you from selling your photos on multiple websites. Other things you need to consider include the payment method, regular payment intervals, etc. Hence the need to explore the features each platform provides and go through the terms of use before becoming a contributor on any of those.
Ebooks
Ebooks are a great way for talented writers to get their work published and make some profit along the way, without the need to go through the publishing house. This way, they will have more freedom in the way they express themselves. Also, they will be able to offer the ebook to the international audience.
First, you will need to create an ebook. It can be on any topic you find relevant, interesting, or missing on the market. You can write it yourself, or you can hire a ghostwriter to do that for you. You will then need to format and proofread the ebook, as well as to create a book cover.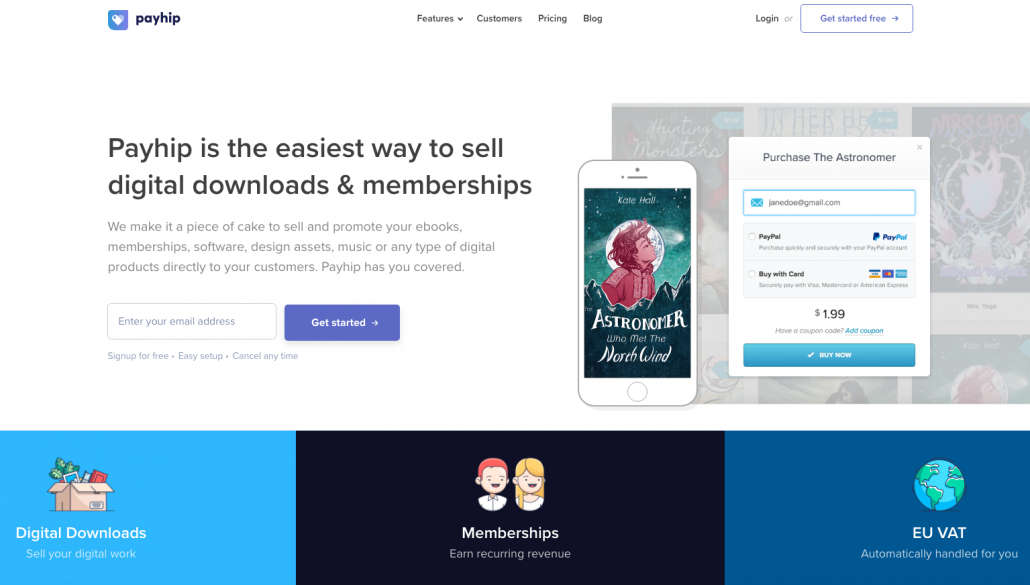 https://payhip.com/
While your own website or blog should be the first place where you will be selling your ebook, other platforms enable you to do this, sometimes even more smoothly.
Music
Music is also a digital product you can sell online. Much like photography and ebooks, it can be a source of passive income. You will need to invest time in creating music and making it available online. For the process, you will be using particular instruments, software, etc. all of which you probably have if you are already a musician. Certain parts of the creation process (or all of it) can be outsourced to other musicians or studios.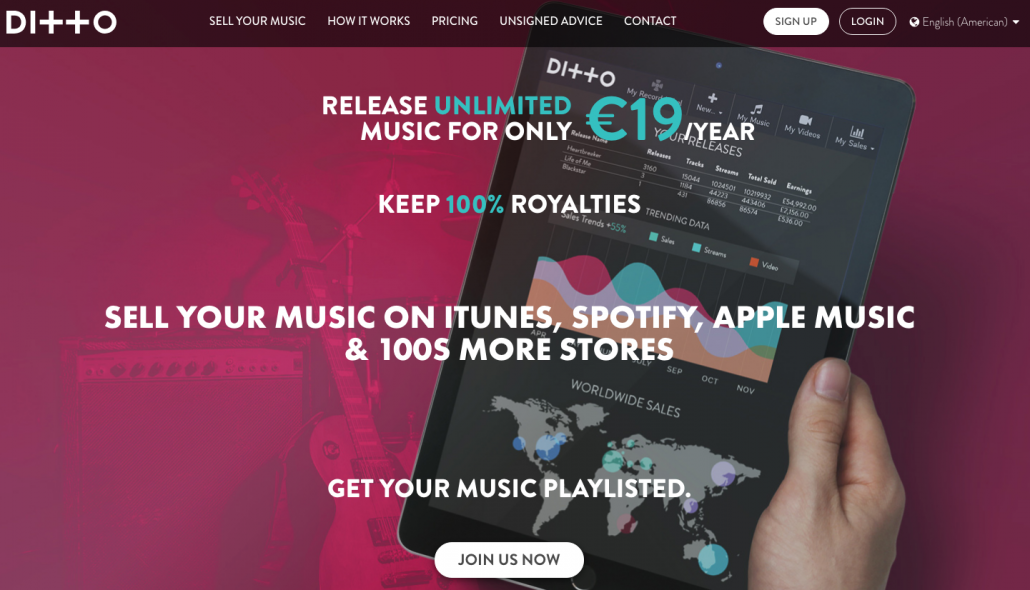 https://www.dittomusic.com/
Once your masterpiece is done, all that is left is to release your music, and you can do so using some of these services:
Ditto Music – The company offers you to release and sell music, while collecting 100% of your earnings. It distributes your music for you to major music online stores, such as iTunes, Amazon, etc.
CD Baby – This global music distributor shares your music in more than 100 digital stores and streaming platforms.
TuneCore – Another music distributor who will help you share your music globally while providing you with sales data to help you understand and evaluate the potential of your product.
Have in mind that big music stores and streaming services such as Amazon, iTunes, GooglePlay, Spotify, etc. do not directly work with independent musicians. This means that you would not be able to publish your music this way, but instead, you need to work with music distribution companies that will be able to distribute your music for you on those global services. Most of them allow you to keep 100% of your revenue, but they do require payment for using their services.
Other digital downloads
While these three types of digital products are probably the most popular ones, there are more digital downloads you can create and share with the world. Other digital downloads include:
PDFs
Worksheets
Audiobooks
Podcasts
Tutorials (written, audio/video)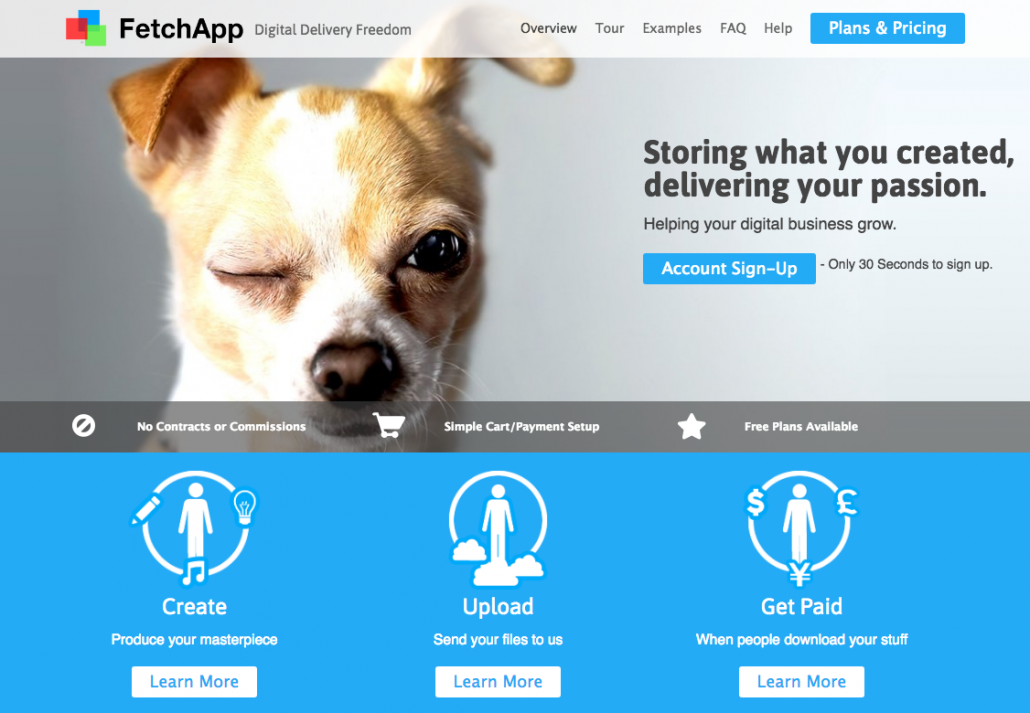 https://www.fetchapp.com/
Anything really that you can create, make available online and allow people to buy, can be used as a digital product. Here are some popular marketplaces enabling you to sell, even if you do not have your website.
The final recommendation is to always weight in both the pros and cons of selling through marketplaces. In general, beginners are usually better off using this method, because it is easier, more convenient, and it requires less work related to management, organization and processing sales. Of course, this comes with a required fee or percentage of revenue each company takes.
If you have these kinds of products, but you want to conduct sales yourself, then go to the next chapter, where you will get a quick guide on starting your online store.