6. Choosing Blog Plugins
A plugin is software that adds a certain feature to the computer program. In terms of blog management, a plugin enhances the blog with new features and allows a possibility for blog customization.
Plugins are usually available for self-hosted platforms as they allow blog customization and optimization. Unlike hosted platforms, which come predesigned with a fixed number of functionalities, when you have a self-hosted platform, your options are much more diverse.
The core installation of a platform such as WordPress comes with a certain number of functionalities. Plugins are used to enhance those features and create options for new functionality to become a part of your blog. Being the most popular CMS platform, WordPress offers the most substantial number of plugins. Currently, there are over 54 thousand WordPress plugins available.
It is also important to know that you will find multiple plugins for the same features. For example, if you need a social media plugin, you will find multiple plugins like that in WordPress plugins directory.
Choosing plugins
Plugins can be paid or free. Sometimes both free and paid alternatives exist for the same type of plugin. Ideally, you should choose a plugin based on how good and helpful it is. Even if the plugin is paid, this investment might be worth the costs.
Advantages
Starting with the pros, here are a couple of reasons why you should consider adding a particular plugin(s) to your blog:
Usefulness
Lots of plugins are very useful. They can help you optimize your blog post, compress images, monitor the statistics, automatically share content, etc. All of these tasks are vital for your blog performance, and thus they are a part of your routine as a blogger. Having those features automated and done for you is a great plus and good enough reason for you to install a plugin.
Time-saving
A lot of the tasks that plugins do, you can do manually. And you might do them at first like that. But as your workload starts to pile up, you will soon find out that plugins can save a lot of time. Automation tasks are a perfect way to save time and focus more on content creation instead of blog management.
Necessity
If you want your blog to grow and if you want to improve its performance over time, some plugins are necessary. While you might skip forum plugin, or similar features, a cache plugin, for example, is a necessity, as it improves the loading time, which enables you to boost your search engine rank.
Customization
Plugins are designed to help blogger achieve different goals. With them, you can completely customize your blog and use only the features that will help you promote your content and connect with the audience.
Regular updates
Companies that develop plugins provide regular updates for those plugins. This means that the software you are using can always be up-to-date helping you avoid your blog becoming vulnerable to spammers and hackers.
Disadvantages
There is no doubt that plugins can be quite useful and most bloggers use at least a few of them. Still, there are a couple of disadvantages you need to be aware of as well:
Blog load time
Although there is no limit regarding the number of plugins you can install, it is worth knowing that each plugin adds more information to your blog code. Eventually, this might reduce your blog load time. Messy codes are generally known to have a negative influence on blog performance. A general recommendation is to install only the necessary plugins and uninstall any plugins you are not using.
Security issues
At times, you might find a plugin that is not updated regularly or has some kind of a flaw in the code. These plugins may represent a security issue. To avoid these, always do research regarding the plugin you are interested in installing. Usually, you will find multiple plugins for the same feature. Explore the reviews, the company behind it and check if they offer support. Check the current version, latest updates and other insights available for the plugin. All of these affect your decision and whether this plugin is worth installing.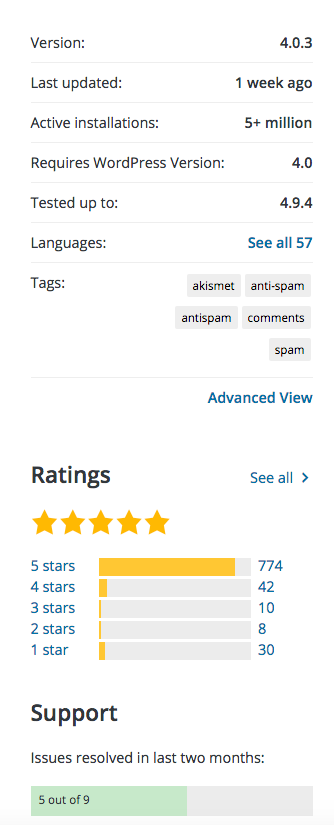 https://wordpress.org/plugins/akismet/
Plugins burden your blog
Some plugins might become a big burden for your blog. They might load a lot of scripts, add database queries, perform remote requests, and many similar complex operations that will have a negative impact on your blog performance. One way to prevent this is by exploring the specification document before installing the plugin.
Potential bugs
Plugins can sometimes create bugs with your CMS, especially when performing automatic updates of the plugins. Since generally, plugins are a piece of code that is added to your blog, updated plugin code might cause an issue with the rest of the code. Also, two plugins can have codes that together might cause bugs.
Combating these issues might be a little tricky. For starters, avoid automatic updates, and update plugins manually. This way you can notice the bug happening after the update, which means that it must be related to the plugin. Since these problems (if and when they occur) affect a lot of bloggers, you can explore the internet to find solutions, or you can hire a developer who can take a look at the code to find what might be causing the bugs on your blog.
Popular free WordPress plugins
Every blog is different and requires a different type of customization. As WordPress blogging platform is the most commonly used, there are some commonly used plugins you can consider adding to your blog. Again, always have in mind the reasons why you are installing a plugin. Just because you see a plugin on this list, it does not mean that you should immediately install it. Think about your blog and features you want to add to it, to decide which plugins you need.
The following list contains some of the most popular free WordPress plugins: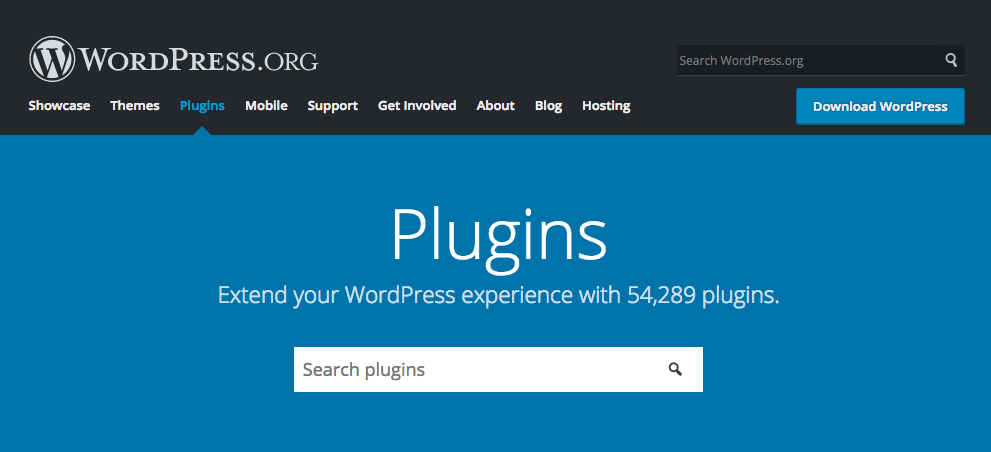 https://wordpress.org/plugins/
This plugin allows you to create tweetable content displayed in boxes within a blog post. Not only do they attract the attention of the readers, but they enable them to quickly share your content on Twitter.
Create widgets in your sidebar to customize your blog pages. Different types of sidebars are available, and they can be displayed on the specified pages of your choice.
This plugin includes a form builder that helps you create opt-in forms for lead generation. Different type of campaigns can be created including pop-up forms, floating header, footer bar, in-line forms, mobile-specific forms, sidebar forms, etc. Increasing your mailing list is very important for your blog success, so you will probably test one of these lead generation tactics to encourage visitors to sign up. The plugin also integrates with email marketing services.
Moderating blog comments requires a lot of time and spam comments can negatively influence your blog. With this plugin, you have automatic filters and check for all your comments, preventing any spam or malicious content being published on your blog.
The purpose of this plugin is to optimize your WordPress blog, enable it to load faster and use server resources. It does so by generating static HTML files from the dynamic blog pages and most visitors will be served those static pages. This makes processing the visits much efficient because cached filed can be shown numerous times.
Smush Image Compression and Optimization
Use this plugin to resize, optimize, and compress images. Smaller image files will improve your blog load time, so this plugin (or other similar alternatives) can be very helpful.
Redirections are a part of SEO. Beside better blog performance, these also improve the user experience. This plugin allows you to manage and keep track of all your redirections and to minimize the number of error pages displayed to the users.
This drag-and-drop form builder enables you to create custom forms without any coding experience. Forms are useful for contact forms, subscriptions, payment forms, and similar.
If you extensively promote your blog on Instagram, this plugin will be quite handy to display your photos directly on your blog. The layout of the feed is completely customizable regarding width, height, number of photos, columns, image size, etc.
This is a free ecommerce plugin that helps you integrate your online shop with WordPress. It enables selling physical and digital products, instant downloads, etc. There are premium extensions for this plugin with even more features such as bookings, memberships, recurring subscriptions, etc.
Perhaps one of the most popular SEO plugins, Yoast SEO comes with sitemap functionality, setting canonical URLs, title and meta description templating, internal linking, etc. The plugin is free, with premium extensions such as social preview and redirect manager available.
Here is another plugin that helps you improve your blog in terms of SEO. Broken links negatively affect your website performance, so installing this plugin could help you keep an eye on any link that might be broken, and fix this issue promptly.
If your blog needs event scheduling, this kind of plugin can be helpful. It is customizable with multiple features to add events, use template texts, save venues, upcoming event list, multiple stylesheets, etc.
Management of tables and content inside can be much more comfortable with this kind of a plugin. It enables customizing and embedding tables, importing from and exporting to Excel, CSV, HTML, etc.
All-in-one plugin will help you with customization, marketing and security tasks for your blog. Features such as customization tools, lazy image loading for a faster mobile experience, site stats and analytics, backups, secure logins, and much more are all part of this plugin.
Advanced text editor, TinyMCE comes with 15 plugins to enhance the existing editor. It includes configuring up to four rows of buttons, more options for lists, ability to set Font Family and Font Sizes, etc.
This WordPress plugin allows creating photo galleries, gallery management system, display albums, use effects, etc. All of this is very helpful, especially if visual content represents a large part of your online presence.
This plugin allows creating a Facebook widget to be displayed on your blog. It is easy to configure and includes options such as showing posts from the timeline, showing or hiding cover photo, etc. There are many more Facebook plugins that provide similar or different features, such as enabling Facebook comments, signup with Facebook, etc.
A full list of WordPress plugins can be found here: https://wordpress.org/plugins/.
The goal with the installation of plugins is to help you manage your blog with more success. You want to create a custom back-end of your blog allowing you to create, promote, and monitor the performance of the content.
It is also important to mention that installation of plugins does not need to be done in the beginning when you first start blogging. In fact, it is more likely to be done later on. Only once you start publishing content will you be able to figure out how you could increase the performance of that content with right plugins.