11. Blog Statistics to Monitor
Truth to be told, you cannot really say that you are running a successful blog without analytics data to back this claim. Essentially, blog statistics represent the reporting of your efforts, and reflect the performance of your content. They should provide information about how successful you are in reaching your audience and how likely you are to convert the visitors. Many more questions regarding your blog content and its performance can be answered with blog analytic data.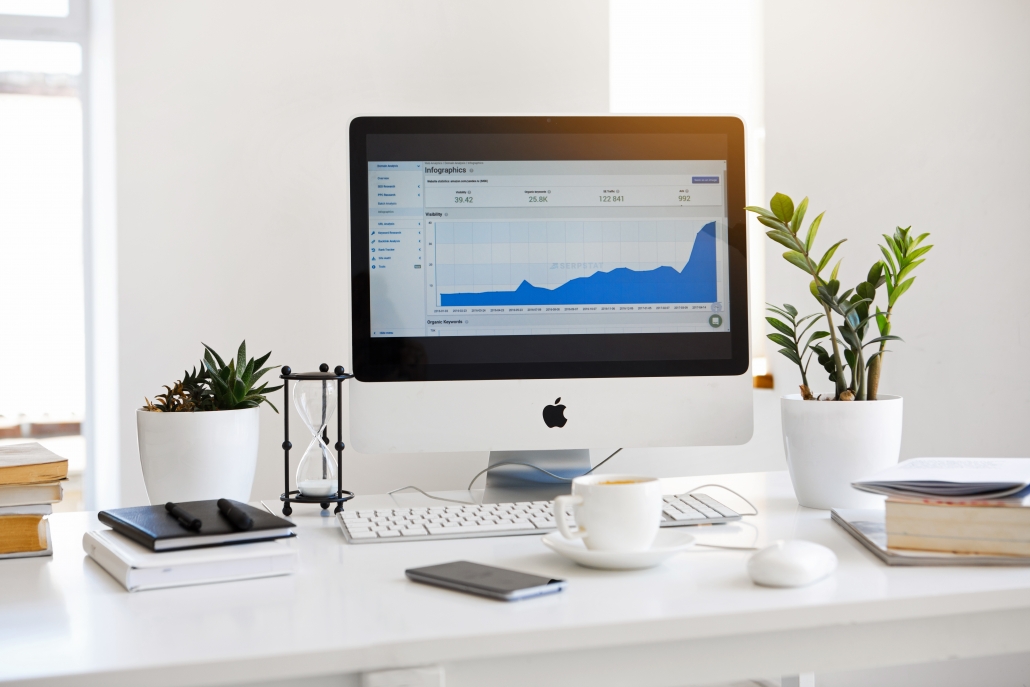 https://www.pexels.com/photo/apple-devices-books-business-coffee-572056/
Blog metrics
Here are the most helpful metrics you should be monitoring to assess the performance of your blog:
Unique visits
This metric indicates the number of individuals who have seen your content. As you start blogging, you should see this metric going up. Monitoring unique visits also helps you determine how trends (such as season, particular events, etc.) affect your audience.
New Vs. returning visitors
Comparing these two metrics is very helpful for discovering your strengths (or weaknesses). For starters, if you notice that large percentage of your audience are new visitors, it means your blog promotion is effective. You are able to generate new traffic and this can help you with your blogging efforts.
While the percentage of new visitors might be significantly large, at the same time it means that the percentage of returning visitors is low. Although you are successful at blog promotion, it all means that your content lacks engagement and encouragement for the visitors to come back.
Always try to balance between these two, as both new and returning visitors should be a part of your blogging audience.
Pages per visit
Explore the flow of your visits using this metric. It should show you how engaging your content is, whether you have done interlinking or if your posts are readable. Users who visit a couple of pages per visit are interested in learning more about you or from you. Therefore, this metric shows that your content (or particular pages) are performing well.
Bounce rate
Another metric that can help you understand your content and how it affects your audience is bounce rate. It represents the number of people who had viewed only one page before they left the site. A page that shows high bounce rate must have an issue that is causing such behavior. You might be attracting the wrong audience, the page might not be optimized, or it might not respond to the related search query. Regardless the reason, it is an indicator of poor performance and demands your attention.
Have in mind that most blogs will see a certain percentage of bounce rate. Earlier studies suggested that it might even vary between 40 and 60%. It depends on a lot of factors, such as industry, or where the link to the post has been shared. What is important to understand is how bounce rate affects your own blog performance. Try to detect the pages with the highest bounce rate. Redesign those pages, add internal links, as well as a CTA. Then start comparing the results. Then try to optimize even those pages that perform well, to try to reduce bounce rate even more. Through this process of testing, you will discover best ways to keep your audience engaged, which will result in lower bounce rate.
Average session duration
This metric can be an indicator of how successful you are at engaging your audience. Long average session duration is usually an indicator that the visitors are interested and they are genuinely reading your content. Compare this metric with the average page viewed per session and bounce rate to try to understand your visitors' behavior on site and how they interact with your content. Besides finding more about their behavior, you will also find out which content on your blog is most engaging.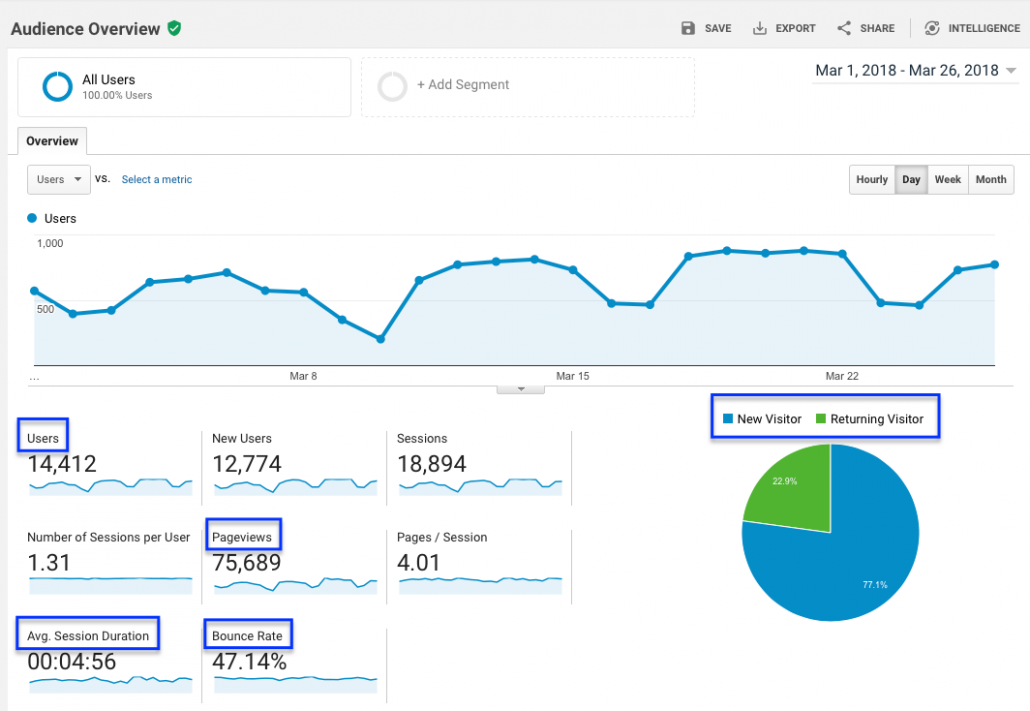 Popular content
Detecting popular posts or pages helps you discover your "secret" formula for success. Use your statistics to find the content that performs exceptionally well. When you pinpoint a particular post, examine it and try to determine some of the following details:
Type of the post
Topic of the post
Whether the post has been shared by a popular blog/website/influencer
Does the post have a CTA/internal links/external links
Is it evergreen content
Try to find out if there is anything that makes this post different from the rest of the articles (such as being featured on the homepage, promoted in an ad on social networks, having more words than other posts, etc.)
The goal is to find out what is unique about that content, what makes it so popular among your audience. Any of the above can be the reason, depending on your blog.
Once you find out the reason for such popularity, try to apply this to another blog post as well. For example, you have noticed that a particular type of post is very popular, share a new post but keep the post type. You could even do A/B testing to find out which post version performs better.
Referral traffic
This metric helps you discover the blogs or websites that bring you traffic. Knowing this can be helpful if you want to establish a relationship with those linking to your blog, or discover new business opportunities. Referral traffic also shows which channels are the most valuable when it comes to generating traffic. For some, it might be organic reach, while some bloggers will see most benefits from social media traffic.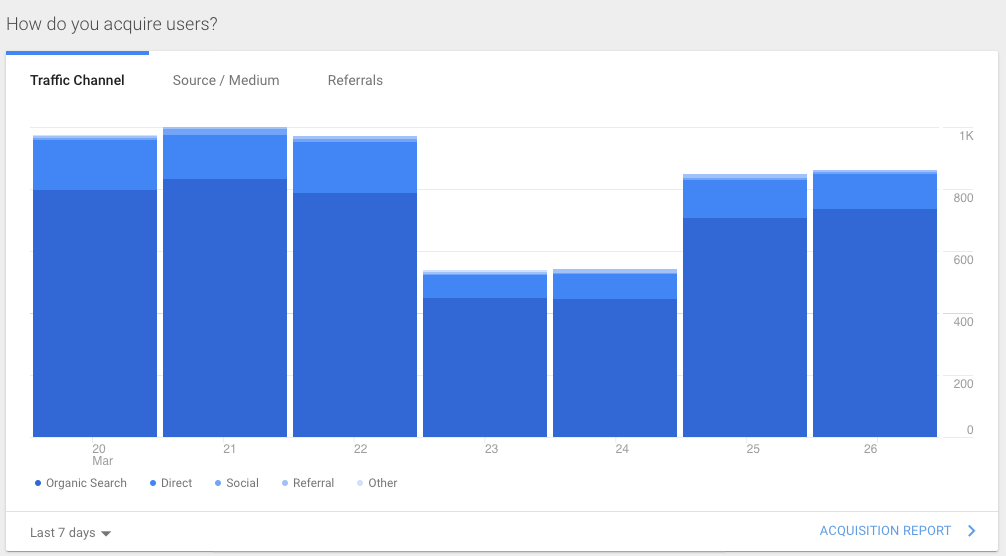 When you know where your backlinks originate from, this can introduce new ideas on how to promote your blog and leverage the power of these channels. For example, you might notice a lot of organic reach, but no social media traffic. This would be a good indicator of your SEO, but it would also mean that you will need to work on your social media marketing. Social networks could be an untapped resource of potential traffic. And you will not have the way to know all of this unless you dig into your blog analytics data.
New conversions
Even if your visits metric is through the roof, it would all be useless unless you are unable to generate new conversions. Conversion metric is an indicator of how good you are in converting people, i.e., encouraging them to complete the desired action. It is a metric that grows over time. You should be able to detect how different strategies, such as different content types, the frequency of publishing, and even page optimization affect the pace at which you are able to convert the visitors.
All bloggers should have an action defined as conversion, regardless if conversion for them is a signup, downloading a file, commenting on a blog post, etc. Converting visitors means that you are able to complete that goal you have set up and it means that your blogging shows good results.
Use data from the blog analytics to detect conversions and find out details such as:
When the conversion happens (new or recurring visitor)
On which page does the conversion happen (some posts might convert better)
What kind of CTA gives the best results
How other types of marketing (such as SEM) contribute to this metric
These are only some of the details you can obtain. To get the full picture regarding conversions and how you should improve your blog to increase conversion, dive deeper into analytics data, compare the metrics and find mutual connections that produce the best results.
Mobile visitors
When you first explore this metric, you will compare mobile vs. desktop visitors. Although this is worth knowing, focusing on the mobile audience is even more important. At this point, around half of your visitors will arrive from mobile devices. However, being able to understand those visitors will help you improve your blog.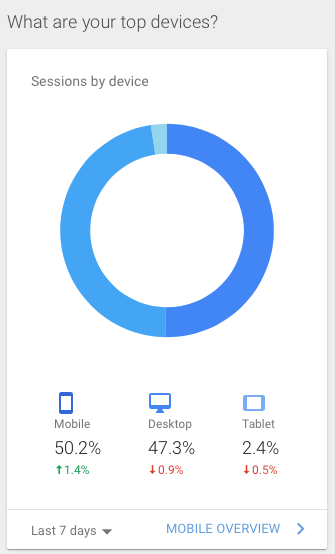 Find out all the relevant metrics for the mobile visitors, such as page views, session duration, bounce rate, etc. Knowing this should show you how mobile-friendly your blog is and whether your content is adapted for the mobile user experience. Make sure you do not miss on the significant percentage of traffic because of a couple of easy fixes in the process of mobile optimization.
Google Analytics for your blog
One of the most popular tools used for tracking blog analytics is Google Analytics. It is a free tool available to anyone who registers for a Google Account. Paid upgrades exist, but when your first start blogging, the free version of Google Analytics is enough to get the most important metrics related to your blog performance.
First, you will need to create an account. Go to Google Analytics and sign up with Google Account.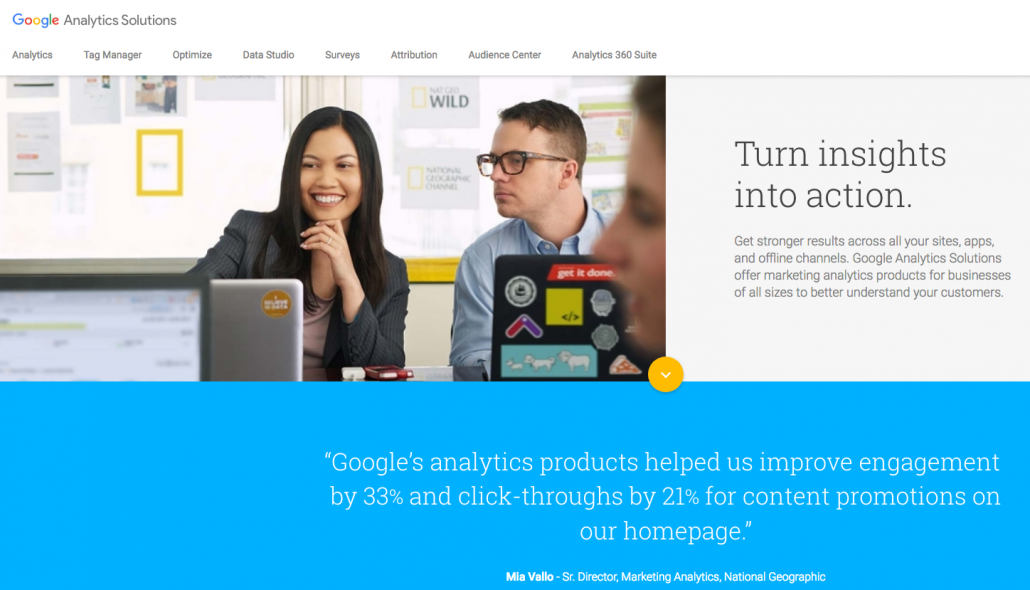 https://www.google.com/analytics/
You will then set up Google Analytics property. Here you will provide blog's URL, industry and time zone which will be used for reporting.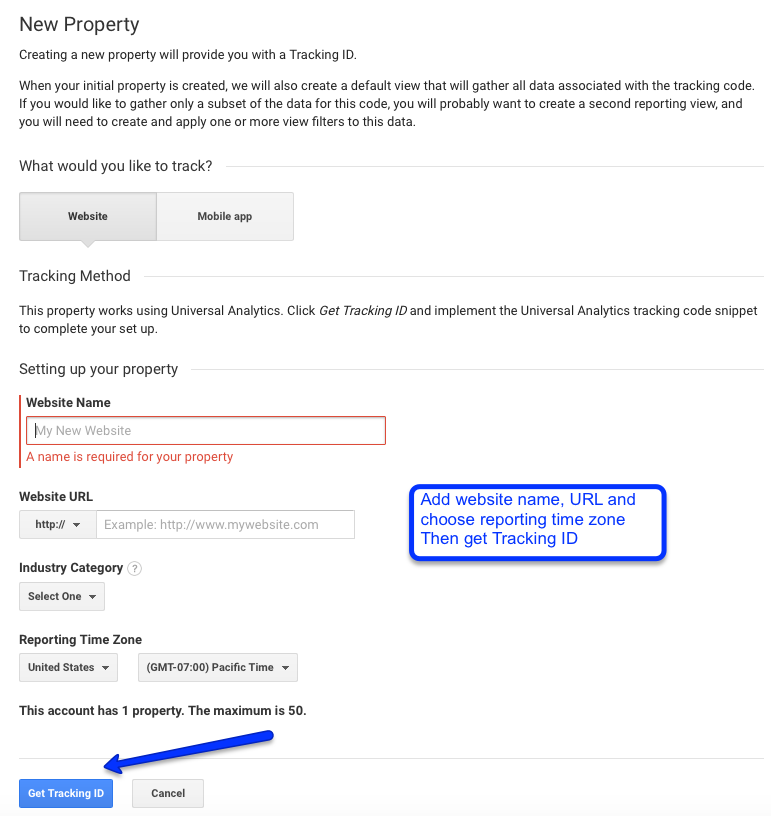 Then, you will get your unique Google Analytics tracking code. This code is used to link your blog to this Google Analytics account. Once these two are connected, the Analytics account will start fetching the data from your blog.
The next step is to save this tracking code and paste it into your blog. This can be done in multiple ways, depending on the type of platform you are using and how skillful you are with coding.
When it comes to WordPress platform, the most common way to integrate Google Analytics is to use a plugin. One of the most popular is Google Analytics for WordPress by MonsterInsights.
The good thing about using a plugin is that you do not need to be an expert to complete the integration. The process is quite simple and straightforward. Additionally, using a plugin ensures that you get reliable data, without the possibility for data to disappear due to coding errors or during regular template updates.
The next step for you is to explore Google Analytics in-depth and how the metrics above can help you improve or completely change your blogging strategy. Plenty of valuable blog data will be saved into the account for you to customize the views and use different reporting tools to focus only on those instances that matter to you.